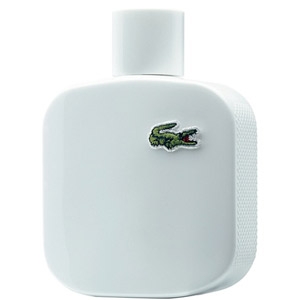 Description
Lacoste's L.12.12 Blanc opens with bracing notes of grapefruit with a twist of rosemary and cardamom. The more-floral heart exhales Mexican tuberose, ylang-ylang and oliban (frankincense). Cedar leaf reinforces the scent's masculine character. In the trail, waves of leather, suede and cedar wood are enhanced by a note of vetiver.
At a glance
A white creation with a crocodile spirit
History
A woody composition with fresh and floral accents, L.12.12 Blanc is part of Lacoste's L.12.12 collection. This line of men's fragrances is inspired by the house's eponymous line of polo shirts. As a tribute to the founder, René Lacoste, who was the first to place a logo on the outside of a piece of clothing, the crocodile appears on the bottle. The glass, which is opaque white – an emblematic color for the house – reveals a soft, pure fragrance that illustrates the very essence of simplicity. A similar characteristic can be seen in the ad campaign, which uses a boldly simple, playful approach.
Range
Eau de Toilette 1 and 3.4 oz.
Bottle
Square and sleek, the lacquered white glass echoes the elegant simplicity of a polo shirt. The (large-sized) bottle is adorned with a cloth label embroidered with the brand's loge, the famous green crocodile.
Advertising of the fragrance L.12.12 BLANC
With the kind permission of the brand
30 december 2013

Ce n'est pas très habituel d'utiliser des fleurs dans les parfums masculins, mais les choses évoluent. Ici, je sens bien la note tubéreuse, qui est présente en touche. Et notamment la facette 'fleur d'oranger' de la tubéreuse. Plus qu'un effet fleur blanche, c'est une note très arrondie : elle apporte une rondeur à l'ensemble, qui est beaucoup plus boisé et épicé. On a un contraste intéressant, un peu comme un chaud-froid. Dans les parfums masculins, on peut retrouver d'autres notes florales, comme l'œillet, mais aussi la violette. En fait on retrouve des notes florales dans un grand nombre de parfums masculins classiques, et même anciens. Ici l'effet floral est employé avec un dosage très raisonnable, ce qui rend ce parfum masculin plutôt facile à porter.

Report abuse

http://www.rochas.com/fr/parfums

Parfumeur créateur de la maison Rochas, Jean-Michel Duriez est amoureux des parfums et des belles matières premières. Formé à l'Isipca, puis...