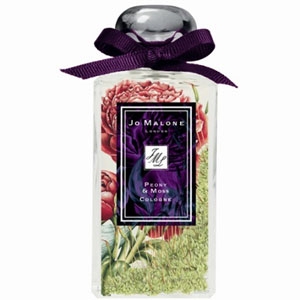 Description
Composed, as the name implies, around peony and moss, the fragrance opens with green and fruity notes of ivy and cassis. The heart is a floral bouquet that evolves towards a woody-chypry moss tonality. Perfumer: Christine Nagel, Mane.
At a glance
When peony meets moss…
History
Green, floral and lightly chypry, Peony & Moss is part of Jo Malone's London Blooms collection. These fragrances reflect the spirit and emotion that animate modern gardens. 'A place that's open to the sun and the rain, a place to reveal yourself… or to preserve yourself. Or just to be yourself,' the London-based brand explains. Peony & Moss combines those two notes with green and fruity tonalities.
Range
Cologne 3.4 oz.
Bottle
The house's sleek signature bottle has been adorned with drawn flowers. The silvery cap has a dapper purple bow.
27 march 2013

La mousse de chêne possède une odeur particulièrement riche et facettée. Elle a un côté terreux, boisé, iodé / algue, champignon. Mais également un effet sous-bois, paille, avec des accents réglissés et épicés. La mousse de chêne a également un côté moisi, un peu cave ; certes, il est moins accentué que dans le patchouli. Malheureusement la législation est de plus en plus stricte et la mousse de chêne est progressivement interdite. Aujourd'hui, à la place, on utilise essentiellement l'evernyl, c'est une mousse de synthèse. Mais cette matière première n'a pas le facetté, la profondeur, la richesse d'une vraie mousse de chêne.

Report abuse

www.parfumdempire.fr

D'origine corse, né au Maroc, Marc-Antoine Corticchiato est entouré de plantes à parfums dès son plus son âge. Il s'intéresse tout...