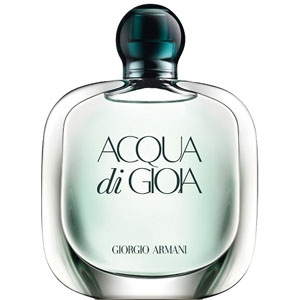 Description
Everything from the perfume's concept to its green-lagoon hue suggests the idea of lush greenery and water. Both tonalities are present in the fragrance, but in a soft way, and a bit in the background. Acqua di Gioia opens with a lively, crisp, somewhat exotic note, redolent of a blend of passion fruit and citrus. The heart is slightly aquatic, but with a feel that's more fresh than frankly sea breeze. This very feminine and joyful fragrance presents woodsy, slightly sweet facets too. Designed by: IFF.
At a glance
A green isle of welcoming freshness
History
With Acqua di Gioia, Giorgio Armani presents a perfume whose name is like a feminine version of his best-selling men's scent, Acqua di Gio. In Italian, gioia means both "joy" and "jewel". This "eau de joie" as seen by the Italian designer was inspired by an image of lush, green tropical islands… "Farway isles" where Giorgio Armani likes to get away from it all, and where the warm rain and the sea spray blend to give birth to an essence that symbolizes the true soul of lush, fertile nature'. The fragrance, which explores the theme of the osmosis between women and nature, nestles in a clean, spare bottle with a 'pure, organic design.' The juice's aqua green hue conveys a certain freshness. The fresh, feminine fragrance blends floral, fruity and green notes with hints of aquatic, sweet and woodsy scents.
Range
Eau de Parfum 1, 1.7 and 3.4 oz.
Bottle
The thick glass "raindrop" or "beach pebble" bottle reveals an aqua-green juice. The round cap is in a darker shade of green.
Advertising of the fragrance Acqua Di Gioa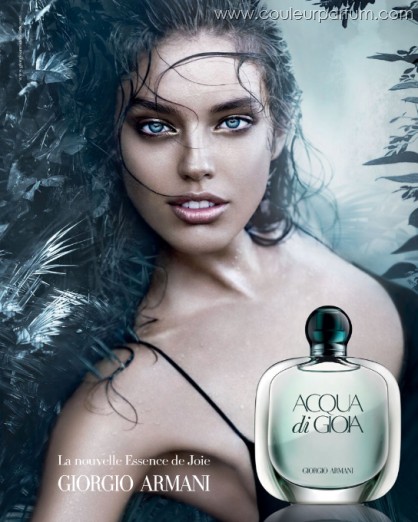 In partnership with Couleur Parfum
With the kind permission of the brand
14 september 2012

Acqua di Gioia is clearly inspired by the limpid, aqueous nature that made Acqua di Gio such a commercial success but it adds white florals and peony to the mix to feminize, alongside rosy pink pepper and mint to add piquancy. The familiar cedar & Ambroxan base is most similar to the men's version and is intended for women who want a scent that hums on the skin rather than projects with force, thus perfect for the office or casual occasions.

Report abuse

http://perfumeshrine.blogspot.com/

Elena Vosnaki is a historian and writer, the founder and editor of Perfume Shrine, one of the most respected independent online publications on...