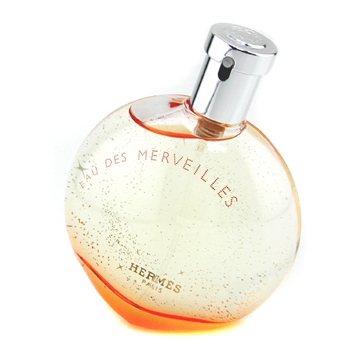 Description
In this magical world, where everything is startling, this particular surprise – a fragrance built upside-down – is majestic. Woodsy-amber accents generally used at the base are pushed into the limelight here. An additional surprise: this is a women's scent with practically no floral facets whatsoever; it achieves its bewitching effects with several traditionally masculine notes. One last surprise is the harmony of mellow, dry and sparkling accords. There is the whisper of balsamic resins, the crackle of cedar and the sweet-and-savory resonance of gray amber…
At a glance
The latest scent from the great house of Hermès, Eau des Merveilles, brings together all the magic of the world of Hermès in an enchanting fragrance – enveloping , delicately sensual and intimate.
History
Like a magic wand, Eau des Merveilles transports us into the surprising world of Hermès, whose creations are born of luxurious materials: raw, wild silk; tanned leather and crystal… Every bit as magnificent are the ingredients of this perfume that blends the rarest essences and absolutes, with spices from distant lands.
Range
Eau de toilette spray 1.7, 3.4 fl. oz.; Merveilles Bath Milk, 6.6 fl. oz. and deodorant, 3.4 fl. oz
Bottle
As round as a shooting star fallen from the sky, as brightly hued as a mandarin orange, strewn with silvery stars… Eau des Merveilles will make you marvel like a child with a new toy. And it is topped with a refined and luxurious touch: the silver rivet cap is stamped with the Hermès logo.
02 august 2013

Me lembro que fiquei fascinada no evento de lançamento desse perfume - o frasco, a campanha, tudo era mágico e poético! e usei a fragrância por algum tempo, até enjoar

Report abuse