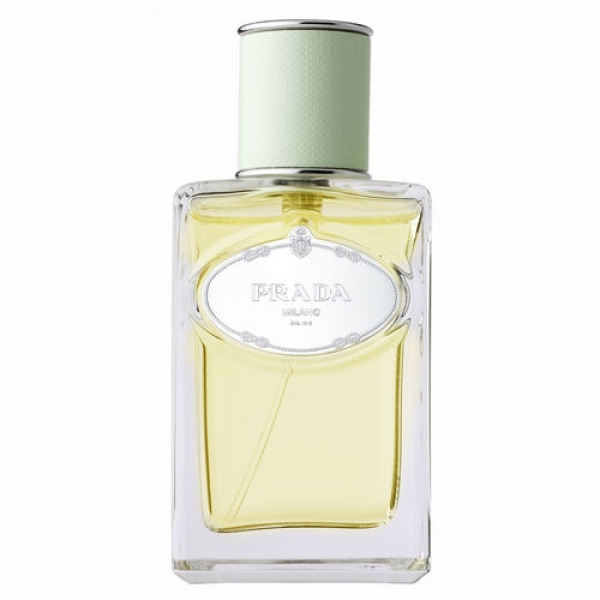 Description
The green opening of galbanum and lentisk, which ensures the scent's freshness, is sweetened with a soupçon of orange blossom and mandarin orange for a cologne effect. The heart of iris soon turns woodsy thanks to notes of cedar and vetiver. A light sensuality emanates from the dry-down, which is both sweet and oriental, thanks to frankincense and benzoin. Designed by: Daniela Andrier, Givaudan.
At a glance
When the venerable house of Prada encounters the equally venerable traditions of haute perfume
History
Infusion d'Iris is the second perfume from the Italian label Prada. It is a harmonious scent 'offering a tonality that is a cross between fresh and firm. Evocative of 'dreams, of a voyage to Italy, the fresh scent of crumpled linen sheets and naked skin'. A modern and elegant iris, with more of a woodsy feel than a flowery or powdery one, it is somewhat green and oriental. The fragrance's name was inspired by a long-ago method of steeping iris rhizome for 6 months to extract its sweet fresh notes.
Range
Eau de Parfum spray: 1.7, 3.4 and 6.8 fl. oz.; Eau de parfum bottles: 14 and 25 fl. oz. (They come with a 1-oz. travel-sized bottle equipped with a miniature funnel).
Bottle
The discreetly elegant glass bottle is reminiscent of old-fashioned perfume bottles. It is adorned with a pale- green side label and struck with Prada's historical logo (the coat-of-arms of the House of Savoy). The packaging bears the same motif, slightly off-center and embossed over a pale-green background.
29 january 2013

L'iris possède différentes facettes. Une tonalité verte tout d'abord, mais aussi un côté floral qui rappelle la violette. La facette la plus connue de l'iris, c'est son caractère poudré. Pour ma part, lors de la création du parfum Equistrius, j'ai utilisé l'iris sous trois formes, dont un extrait retravaillé, qui possède un côté original à la fois chocolaté et foin. L'iris est un ingrédient très cher. Mais c'est aussi une note qui ne plaît pas à tout le monde. Comme la tubéreuse, c'est une matière première qu'il faut donc habiller, ou alors dompter, en atténuant certaines facettes.

Report abuse

www.parfumdempire.fr

D'origine corse, né au Maroc, Marc-Antoine Corticchiato est entouré de plantes à parfums dès son plus son âge. Il s'intéresse tout...

29 october 2012

Realmente elegante, discreto, uma longevidade estupenda! Não é bombástico nem sensual, entretanto.

Report abuse

http://perfumenapele.com

Quando criança, brincava com frascos vazios de Phebo imaginando ser perfumista. Apaixonou-se de verdade por perfumes quando ganhou de uma vizinha...