Description
Terre d'Hermès is described as being like 'a voyage across the elements'. The fragrance blends sparkling citrus accents, mineral notes of flint and waves of plants and spices. A voyage that goes on to unveil the earthy sensuality of wood notes softened with benzoin.
At a glance
A men's scent combining heaven and earth
History
Terre d'Hermès is a plant-and-mineral scent for men, a fragrance combining heaven and earth ("terre"). Shaded with flinty accents and tangy hints of grapefruit, it reveals whiffs of tree trunks, roots and woody resins. For its creator, perfumer Jean Claude Ellena, 'It's a story, with characters and the staging of olfactory emotions.' A 'straight-forward, frank, legible' scent for a man who is at once, 'simple and complex, tender and determined, a dreamer with his feet firmly on the ground.'
Range
Eau de Toilette, 1.7 and 3.4 fl. oz.; After Shave Lotion, 3.4 fl. oz.; Alcohol-Free After Shave Emulsion, 3.4 fl. oz.; Shower Gel, 6.8 fl. oz.; Deodorant Spray, 5 fl. oz.; Alcohol-Free Deodorant Stick, 2.6 oz.
Bottle
A glass bottle with both sharp and softened edges, the base is in the shape of the letter H, one of the symbols of the House of Hermès. The bottle's metal shoulders reflect the cap's discreet orange thread.
Terre d'Hermès - Advertisment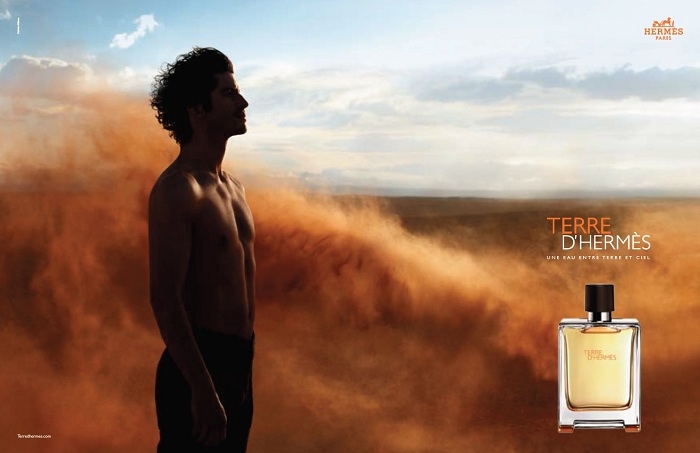 With the kind permission of the brand
29 october 2012

Quand on regarde la publicité, on est tout d'abord dans une terre ocre, orangée… une terre aux couleurs d'Hermès. Le H orangé à la base du flacon, c'est comme s'il trempait dans cette terre Hermès. Dans la publicité, on voit d'ailleurs très bien l'empreinte du flacon. Ce parfum a un côté statutaire, mais il est second degré. Le flacon n'exprime pas forcément un message ou un concept : c'est plus codé. C'est plus un code pour les initiés. Pour moi, l'homme à qui s'adresse ce parfum est… un aventurier élégant. Mais il y a une anticipation dans le voyage : ce n'est pas un voyage improvisé.

Report abuse

http://www.agenceaio.com/

Marc Touati est créateur de flacons de parfums. Issu d'une famille d'ébéniste et de tapissier-décorateur, il a dès sa jeunesse une...