Description
Fahrenheit has become part of the history of perfume. Its concept is based on a modern chypre note with a very original floral accord imbued with violet; the note is thus at once virile, delicate and rounded.
History
At the end of the 80's Christian Dior created Fahrenheit. This perfume has since become a legend and is at the point of being among the ten most widely sold perfumes in the world. Fahrenheit is a perfume replete with contradictions. It is at once warm and cold, delicate and powerful, gentle and rough, like a man who is in full maturity. It is a perfume which doesn't strike with intensity but convinces through its stability.
Bottle
It is presented in the magic colors of red and gold which symbolize maturity, stability and the spiritual dimension of the man who wears Fahrenheit. (copyright by Marc Roesti, Mont-Blanc Publications).
Advertising of the fragrance Fahrenheit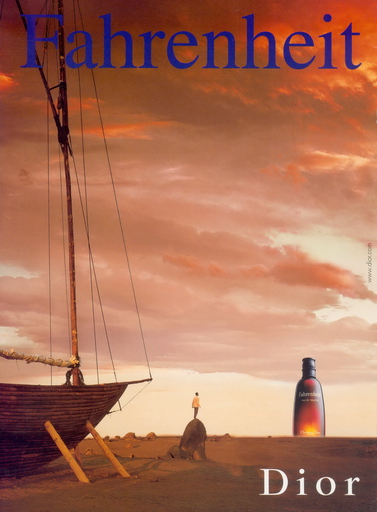 www.imagesdeparfums.fr
With the kind permission of the brand
09 january 2013

Pour moi, qui n'ai pas une parfumerie florale, je trouve que ce parfum masculin est très fleuri. Trop fleuri peut-être même. C'est doux et poudré aussi. Une femme pourrait porter Fahrenheit sans problème. Pour un homme, je le vois plutôt porté par un dandy, quelqu'un qui fait attention à lui. Pour moi ce n'est pas macho du tout. Fahrenheit a un sillage très reconnaissable. Il est assez puissant. A utiliser de préférence en petite quantité donc.

Report abuse

http://www.olfactivestudio.com

Céline Verleure est la créatrice d'Olfactive Studio. Avant cela Céline a travaillé pour les parfums Kenzo, pour L'Oréal, mais elle a...

02 october 2012

It's a shame that few men seem to wear Fahrenheit these days. Perhaps its emphatic nature seems out of place amongst the predictable 'sameness' of so many mainstream masculine releases. But it's well worth revisiting, despite claims of reformulation. Anyone with a desire to project confident assertiveness would probably be able to pull off its unusual woody violet accord.

Report abuse

http://www.persolaise.blogspot.com

Persolaise is a Jasmine Award-winning writer and amateur perfumer with a lifelong interest in the world of fine fragrance. His perfume guide, Le...