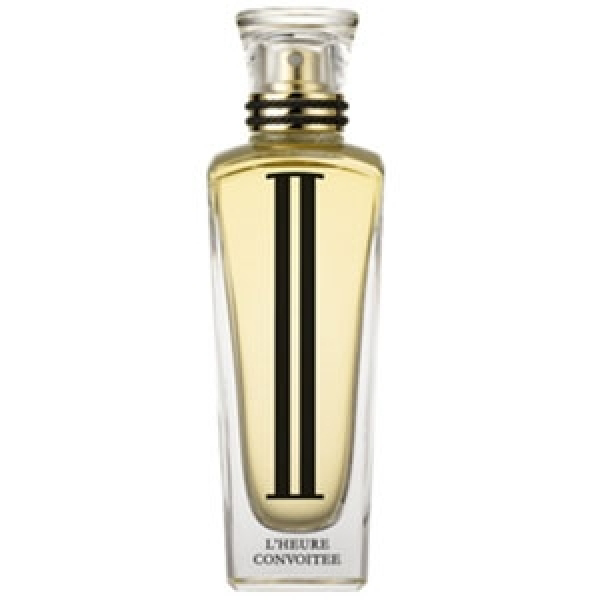 Description
L'Heure Convoitée (The Coveted Hour") opens with a note of strawberry, which is fairly unusual in fine fragrance. The rose-and-carnation heart is spiced up with clove and evolves towards a tonality of iris intertwined with lightly gourmand waves of crème de marron. Perfumer: Mathilde Laurent.
At a glance
A gourmet carnation
History
Number 2 in Cartier's luxurious Les Heures de Parfum collection, L'Heure Convoitée is a gourmet spicy-floral scent that introduces an unusual pairing of strawberry and carnation. The fragrance evokes a sensual dance with petticoats, red lingerie and flashing legs, performed to a Juliette Greco song… 'Undress me, but not right away, not too fast, know how to covet me, to captivate me!'. An exclusive hour of sensuality and seduction. At Cartier boutiques.
Range
Eau de Toilette 2.5 oz.
Bottle
A sleek, uncluttered bottle graced with a Roman numeral II, like on a clockface.
31 march 2014

Mathilde Laurent is talented indeed. Anything labeled "Cartier" is automatically chic. In a "fine fragrance," I don't mind if strawberry or huckleberry is used as long as the result is beautiful. The name, The Coveted Hour is mysterious and does conjure up images of lingerie, love songs, mixed tapes, flashing legs, moving lips and swaying hips.

Report abuse

13 june 2013

J'aime ce parfum... à vrai dire c'est toute son évolution, depuis la vaporisation jusqu'aux dernières vapeurs que j'inhale avec bonheur. La fraise mûre écrasée qui se mêle à l'iris puis à l'œillet, et déjà ces notes chaleureuses de châtaignes boisées, semblent s'enrouler autour de mes bras. Je l'ai pris un peu sur un coup de tête, pour bénéficier d'une réduction, et je ne le regrette absolument pas. Pour moi, il est réconfortant et chaud en gardant le délié aérien des compositions savantes. Bravo à Mathilde Laurent pour cette merveille (et merci aux adorables vendeuses du stand Cartier des Galeries Lafayette, Josiane et Coralie, avec qui c'est toujours un grand plaisir de parler des parfums).

Report abuse

08 may 2013

Je pense très vite découvrir ce "cartier"....... la pyramide est assez intrigante, le nom et le flacon sont très sobre et chic, j'adore !!!

Report abuse
Be the first to comment this fragrance! Register or login to comment.