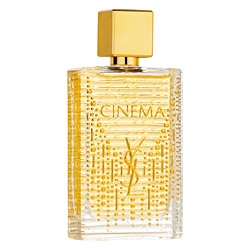 Description
Seduction in a bottle: floral, sensual and luminous. The top note is a flight of gentle freshness (Corsican clementine, almond blossom), announcing the arrival of peony, amaryllis and radiant jasmine. The trail is warm and voluptuous, with touches of powdery sweetness.
At a glance
Cinéma by Yves Saint Laurent… Glamorous, hedonistic, surprising, the perfume that reveals the star in every woman.
History
A woman is keeping someone waiting. She is perfectly aware of her powers of attraction. She enjoys wielding them. For her, Saint Laurent created Cinéma, a perfume that reveals her sensuality, intense charm and glamour. A glittering perfume designed for a divine woman. A perfume fit for a star. The communication campaign has model Michelle Alves in the role of the movie star, surrounded by five handsome young man; all under the artistic direction of Jean Baptiste Mondino.
Range
Eau de Parfum, 3, 1.7 and 1.2 fl. oz.; Extract (Perfume), ½ fl. oz.; Velvety Body Milk, 6.8 fl. oz.; Smooth Shower Gel, 6.8 fl. oz.
Bottle
The Cinéma bottle is a star's trophy. For the Extract, it is intensely, densely golden, struck with the letters Yves Saint Laurent, repeated over and over, like a leitmotiv. For the Eau de Parfum, more transparent, it mixes gold and light with a refined touch. The letters of the designer's name can be found here as well.
Be the first to comment this fragrance! Register or login to comment.