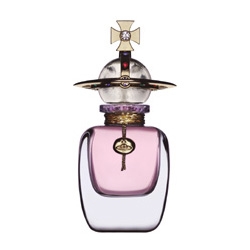 Description
The top note is deliberately intoxicating, like the perfumes of yesteryear, which were designed to "make men's heads turn". Boudoir unveils the scent of viburnum blossom, a fresh and sparkling note that has never been used in perfumery before, obtained with "Aura Scent" technology. Combined with Indian carnation, viburnum reveals a voluptuous harmony of Turkish rose, iris and orange blossom, enhanced with a spicy note of cardamom and coriander and warmed with cinnamon. The end note of sandalwood, patchouli and vanilla is balanced with deep amber notes and the intoxicating sensuousness of tobacco flower that lingers deliciously on the skin.
History
The Westwood woman is feminine and has a strong personality. The perfume is meant for women who are know their own worth and who take the time to take care of themselves and of their beauty. Like a boudoir - the most intimately feminine of rooms - this fragrance defines a private space that's delicate and full of charm, where women go to apply perfume to their naked skin, to the curves of their neck and shoulders. This is and intimate juice, extremely fanciful and mightily sensuous. The name exudes elegance, luxury, and a certain savoir vivre that evokes the refinement of a golden age, illustrated by the "Grand Siècle" eroticism of the ad and the fragrance's pink hue.
Bottle
The globe and ring symbolize royalty and feminine power. The packaging is inspired by Watteau's paintings while the color evokes old leather-bound books.
Be the first to comment this fragrance! Register or login to comment.