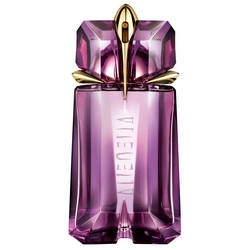 Description
Perfumers Dominique Ropion and Laurent Bruyère have dreamt up a mysterious and sensual elixir composed along three fragrant lines. An amber facet, revealed by an overdose of transparent white amber. A woodsy facet radiating cashmeran, a remarkable wood, spell-binding and dense. And finally a floral facet, dominated by the sunny warmth of Sambac jasmine from India.
At a glance
A mystic, supernatural aura… Alien, the fragrant new revelation from Thierry Mugler
History
Thirteen years after Angel, Thierry Mugler has dreamt up a new creation under the sign of mystery and seduction. Its very name, Alien, resonates like a shock wave, "strange and mysterious, emanating from the origins of the world and the extremes of the future." The bottle, like the philosopher's stone, calls to mind the magical pirinciples of alchemy; the aura is one of light. Presented in the visuals by a shaman-woman, who, in the lens of the photographer-creator, incarnates the alien, the other, bearing a gift of peace and happiness, a being combining the supernatural with an ethnic mix that seems to be a message for humanity.
Range
Eau de Parfum, refillable spray, 1 and 2 fl. oz. Eau de Parfum, refillable travel spray, 1/3 fl. oz. Refill, Eau de Parfum, 2 fl. oz. Prodigious Shower Gel, 6.8 fl. oz.; Prodigious Bath Oil, 4.2 fl. oz.; Prodigious Cream, 6.8 fl. oz.
Bottle
Like a sacred stone, or a talisman of amethyst-hued glass and golden-toned metal. Like a jewel with occult powers intensified by the golden claws that underscore its mysterious nature.
Advertising of the Alien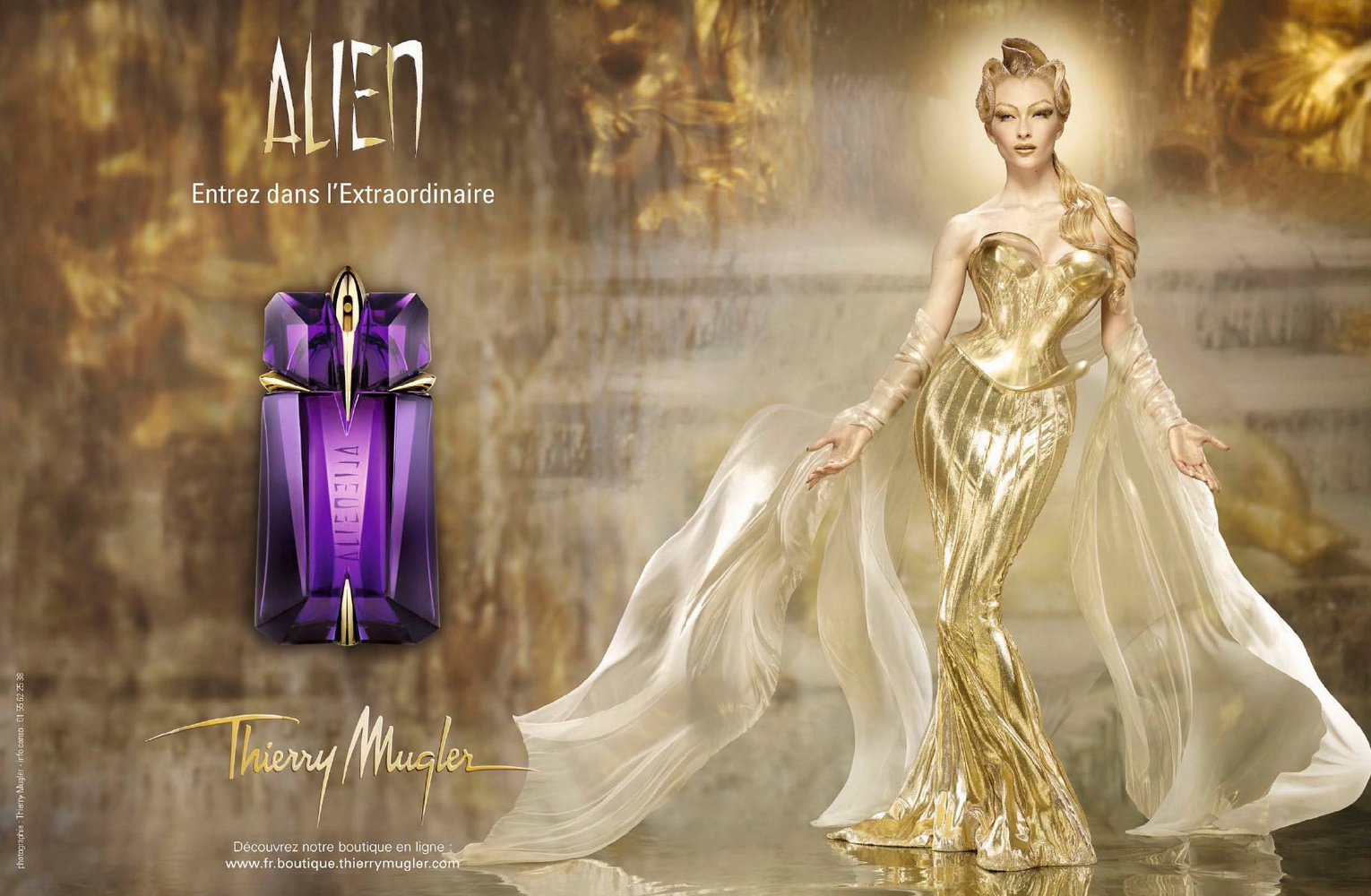 http://www.imagesdeparfums.fr/
With the kind permission of the brand
08 november 2012

Gosto do que fizeram aqui com o jasmim. Cheio de tessituras e brincando consigo próprio, cheio de facetas e profundidade. Realmente um Alien, que tem algo de conhecido e ao mesmo tempo chocante.

Report abuse

http://perfumenapele.com

Quando criança, brincava com frascos vazios de Phebo imaginando ser perfumista. Apaixonou-se de verdade por perfumes quando ganhou de uma vizinha...

26 october 2012

interessante como este é um perfume mais complexo do que parece! Mas não é casual, nem tao fácil de usar.

Report abuse

http://perfumenapele.com

Quando criança, brincava com frascos vazios de Phebo imaginando ser perfumista. Apaixonou-se de verdade por perfumes quando ganhou de uma vizinha...

13 october 2012

A son lancement en 2005, Alien de Mugler raconte l'histoire d'une magicienne hors du temps, rayonnante et généreuse portant un talisman enchanteur. Il en résulte un parfum message, faisant appel au sens de l'imaginaire et lié, tout comme les autres parfums de Mugler, à l'univers du conte fantastique. Cette nouvelle création aux allures surnaturelles se veut 'étrange et mystérieuse, émanant des origines du monde et de l'extrême du futur'. Alien a pour mission d'apporter la révélation, se veut présence bienfaisante, un moment initiatique pour un monde en perpétuel mouvement. La maison Mugler souhaitait avant tout montrer une fois encore après le parfum Angel, sa capacité à faire rêver les gens et surtout à créer la surprise. La communication présentait cette création sous le signe du mystère et de la séduction. Ce mystère était mis en avant par une femme chamane, qui sous l'œil du créateur-photographe incarnait Alien, cet autre que nous, porteur de la paix et de la félicité. Il voulait une femme au carrefour des civilisations et des ères et choisit une Asiatique métissée au nez européen, aux pommettes asiatiques, à qui il rajouta des cheveux afro version albinos ! Cette magicienne devait séduire les femmes à qui ce parfum était destiné. En avril 2009, la publicité d'Alien présente non plus une femme chamane mais une déesse solaire, aux allures de vestale antique. Le champ sémantique utilisé pour communiquer sur le parfum appartient toujours au domaine sacré : le jus est un élixir, le flacon une pierre mystique et un talisman chargé d'une énergie naturelle et solaire. Alien, tel un encens magique appartient à la sacralité, chargée de davantage de glamour.

Report abuse

http://www.arty-fragrance.com

Docteur en histoire, experte du parfum, Elisabeth de Feydeau se définit volontiers comme 'chasseuse d'histoires et d'odeurs'. Elle a écrit...