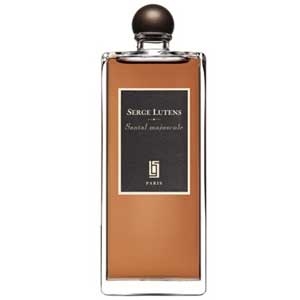 Description
Hard to categorize, Santal majuscule opens with spicy and syrupy notes. In the heart, sandalwood intertwines with a strongly present rose, before giving way to a sweetly woody trail with a chocolaty effect.
At a glance
Olfactory memories from school days
History
Santal majuscule is the third sandalwood fragrance Serge Lutens has dreamt up – after Santal Blanc, a rather gentle scent, and the spicier Santal de Mysore. To a certain extent, there's even Jeux de peau, which Santal majuscule is somewhat like. The fragrance is reminiscent of Serge Lutens's school days, when he entertained himself by embellishing the capital letters ("majuscules," in French) of his essays with all sorts of doodles.
Range
Eau de Parfum 1.7 oz.
Bottle
The house's signature sleekly refined rectangular bottle.
05 may 2013

La rose et le santal s'allient à un accord boisé ambré, légèrement fruité, avec parfois des accents de réglisse, qui peut aussi évoquer le bois de oud. Surprenant, déroutant au départ, il peut paraître un peu fort, mais pourtant, il se révèle incroyablement 'peau' dans son évolution. L'Orient, dans une vision fine et cohérente d'un santal surdosé.

Report abuse

http://www.olfactorum.blogspot.com

Passionné de parfums depuis très longtemps, formé depuis 2003 aux matières premières chez Cinquième Sens, Thierry effectue ses gammes pendant...