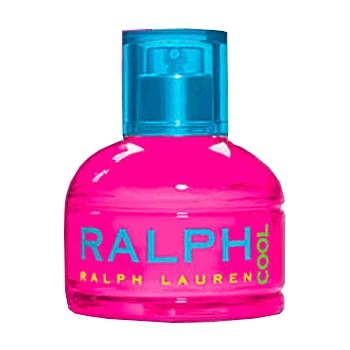 Description
A floral, fruity fragrance with sparkling tropical accents. A resolutely fresh heart (floral notes of honeysuckle and linden) spiked with a fruity opening and stretching into a fresh, sensual trail of wood and musk.
At a glance
A fresh, dynamic essence aimed at bold, athletic, fashionistas.
History
The hugely successful American designer Ralph Lauren has always had a knack for capturing and anticipating trends for the young and fashion conscious. With RALPH COOL, he offers young women a luxurious and sexy floral essence that welcomes them into a fun, relaxed world that is, terribly cool, of course. A new and different kind of lifestyle that will attract those who love adventure, fashion, hi-tech, sports and being bold.
Range
Eau de Toilette, 1, 1.7, 3.4 fl. oz.; Shower Gel, 6.6 fl. oz.; Moisturizing Body Lotion, 6.8 fl. oz.
Bottle
A bright-pink bottle with a blue cap, like a fluorescent bikini. The rest of the range sports flashy yellow or orange shades. The bright yellow, lime and blue letters reinforce the scent's high-spirited, fun-loving personality.
Be the first to comment this fragrance! Register or login to comment.