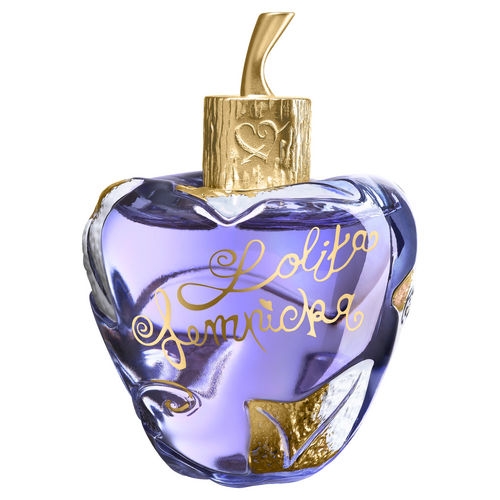 Description
Delicious tones of anise seeds blend with licorice and violet. Then comes the ivy with a punchy green touch.The amarena, a small sweet almond scented morello cherry, mingles with the woody note of Iris.The mouth-watering notes linger with hints of Tonka bean almond, vanilla, heliotrope and white musk.
History
Lolita Lempicka is the most fairy-like of perfumes.It carries us back to the enchanting world of fairy tales, taking every woman back into the imaginary realm of her young past.Its fragrance, focused on licorice, appeals to the taste buds and its mauve color is an invitation to the dawn and fairies.Although the brand name is still relatively unknown, the dream that the perfume suggests is so tempting that, as the sales figures show, Lolita Lempicka has already awakened women's desires.
Bottle
The apple shape delicately decorated with colored enamels makes this bottle unique. The ivy plant, the brand's symbol, states: "I cling or else I die".The decoration of the package is the entrance to Wonderland.
27 october 2012

Je ne suis habituellement pas fan des "blockbusters" gourmands, mais celui-ci je l'aime bcp! il était novateur, le marché n'était pas encore inondé de jus gourmands quand il est sorti ( à part angel). Il proposait un fond certes praliné mais avec cette note de violette qui l'équilibre. très bel accord réglisse-violette très innovant à l'époque! Je le trouve très "lolita", un peu jeune fille mais pas vulgaire. En revanche il est victime de son succès: trop porté, trop senti partout, ce qui fait qu'on peut s'en lasser. En tout cas bravo Annick Menardo!

Report abuse

http://mybluehour.blogspot.com/

Passionnée de parfum depuis l'adolescence, j'ai pourtant entrepris des études de droit puis de journalisme. C'est lorsque j'étais...

12 october 2012

Le parfum de mon adolescence, je l'ai adoré des années durant. Aujourd'hui, il me rappelle énormément de souvenir mais je le trouve trop sucré et juvénile pour envisager de le porter de nouveau.

Report abuse

14 september 2012

Dans une forêt enchantée, on pourrait bien trouver des pommes signées Lolita Lempicka. Avec son flacon rond à l'allure féerique, ce gourmand romantique a inspiré bien des créateurs… Si vous aimez l'idée d'un flacon en forme de pomme, découvrez aussi Nina de Nina Ricci ou Hypnotic Poison de Dior. Deux autres flacons pommes qui raviront, là aussi, les amatrices de senteurs gourmandes !

Report abuse