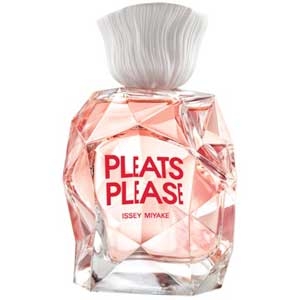 Description
Pleats Please opens with a fruity note of nashi, a fruit that is like a cross between an apple and a pear. In the heart, peony intertwines with sweet pea and indole, a slightly animalic floral note that appears naturally in jasmine. The woody trail brings together tonalities of cedar, patchouli, vanilla and white musks. Perfumer: Aurélien Guichard, Givaudan.
At a glance
The art of pleats, bottled.
History
Pleats Please is a reference to Japanese designer Issey Miyake's pleated collection. Like the line, which is 'on the cusp between pure creation and practicality (…) between the classic and the avant-garde,' the fragrance is both light and timeless. It also expresses a sense of freedom. Pleats Please is intended for joyful women who laugh easily.
Range
Eau de Toilette 1, 1.7 and 3.4; Body Lotion 5 oz.; Deodorant Spray 3.4 oz.
Bottle
Unveiling an orangey red juice, the bottle, in the shape of a 'multi-facetted polyhedron' creates a pleated impression. It is topped with a white cap in the shape of a cupped flower.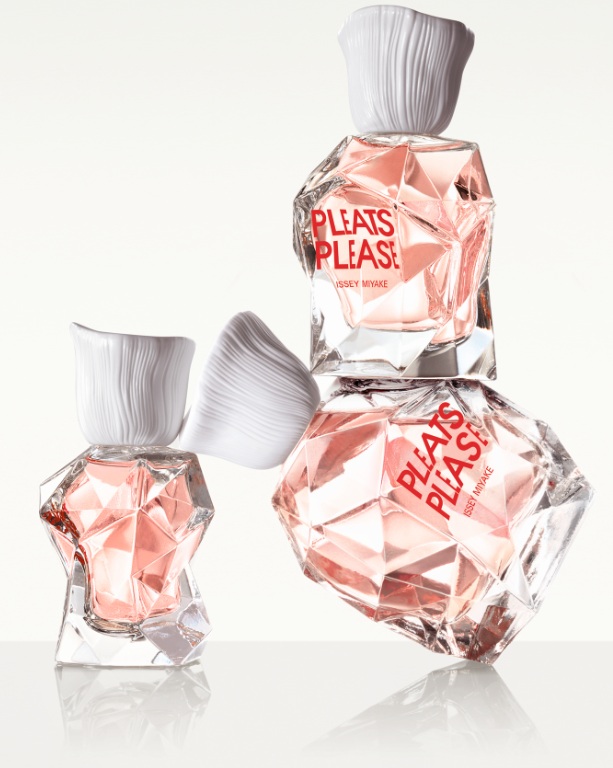 Advertising of the fragrance Pleats Please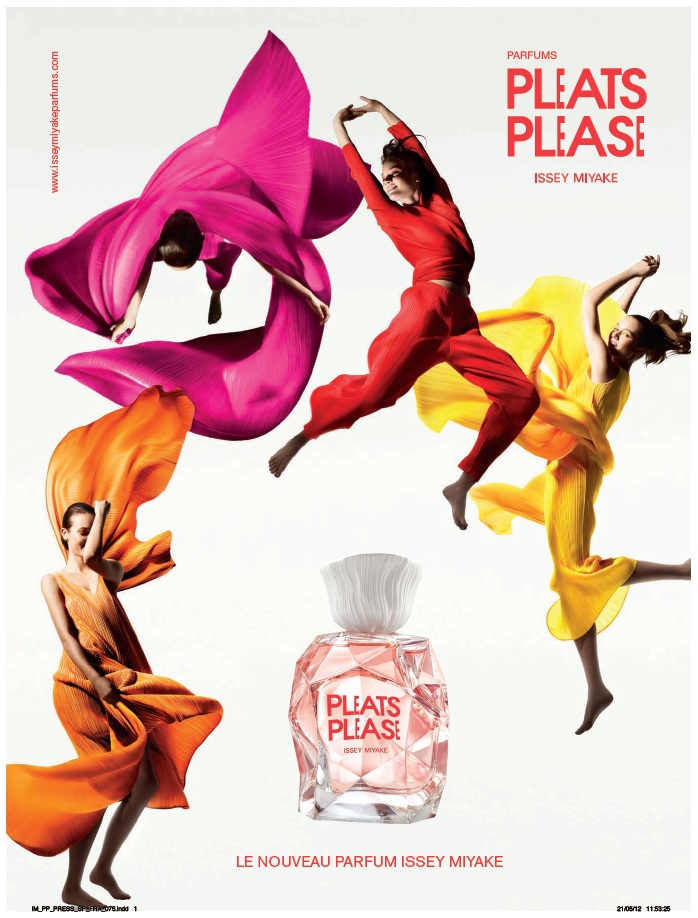 With the kind permission of the brand
29 october 2012

Pour moi, ce flacon tient plus de l'origami que du plissé. Mais en fait c'est une trace d'origami : on n'a pas un héron ou une cocotte en papier. On a un objet qui semble plus aléatoire. Il y a une connotation très minérale, comme un cristal à facettes. C'est assez massif aussi. Comme un cristal de roche, un quartz rose. Le flacon est plus une référence au sac Pleats Please qu'aux vêtements de cette ligne d'Issey Miyake. Quand on voit le sac, il y a un lien, mais sorti du contexte, c'est plus difficile. Quand on compare avec le flacon de L'Eau d'Issey, c'est moins 'à la japonaise'. On passe de l'épuré au figuratif. Avec Pleats Please, on a une forme dont on ne comprend pas vraiment le sens. Dans le bouchon par contre, on a une fleur avec la texture du plissé Issey Miyake. Cette idée de fleur évoque davantage une symbolique japonaise. Entre le bouchon et le flacon, on est dans deux vocabulaires graphiques complètement différents : d'un côté, l'aspect souple, plissé, blanc, assez japonais, de l'autre : quelque chose de très géométrique avec le côté triangulaire et le cristal. En revanche, on n'a pas ce contraste, cette opposition dans le jus. Les notes de tête et de cœur, par exemple, ne s'opposent pas : c'est plutôt rond.

Report abuse

http://www.agenceaio.com/

Marc Touati est créateur de flacons de parfums. Issu d'une famille d'ébéniste et de tapissier-décorateur, il a dès sa jeunesse une...