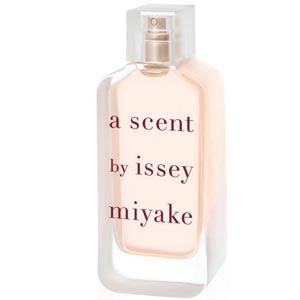 a scent by issey miyake eau de parfum florale
Description
The tone is given right from the start: the eau de parfum is unquestionably floral, with an opening dominated by jasmine notes. The heart goes on to offer a floral bouquet that is still centered on jasmine, with peach-skin effects. It reprises the vibrant green side of galbanum, which was present in the eau de toilette version, but this one is gentler, and less crunchy. The trail delicately sketches in woodsy tonalities of patchouli, mousse and ambrox (an ambergris/skin note). All in all, it's fair to say that the eau de parfum introduces us to a gentler, more floral, less green and chypry fragrance than the eau de toilette. Perfumer: Annick Menardo, Firmenich.
At a glance
Une vaA more floral and feminine variation of 'a scent'
History
A year after the release of the eau de toilette version of 'a scent by issey miyake', the designer is now presenting a more floral and feminine reinterpretation of the fragrance. The eau de parfum is not just a more concentrated version of the eau de toilette, but a true rewriting of a scent's olfactory theme. While taking inspiration from the original version, the eau de parfum is more floral and less citrussy, a true alternative to the eau de toilette's freshness. The perfume's color code, also more feminine, has evolved from pastel green to an almost peachy pink.
Range
Eau de Parfum 1.3 and 2.7 oz.
Bottle
The sleek, minimalist eau de toilette bottle, like a chunk of raw glass, is reprised here, but in a peachy pink hue. The 'a scent by issey miyake eau de parfum florale' bottle offers, on the other hand, greater density, as the glass is ever so slightly thicker than for its predecessor.
Be the first to comment this fragrance! Register or login to comment.