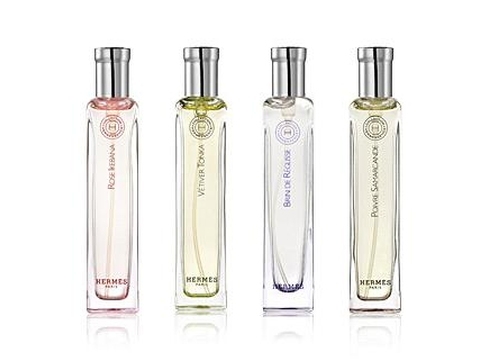 Description
The HERMESSENCE collection is four surprising fragrances to discover. POIVRE SAMARCANDE: The edgy and assertive subtlety of an alliance of: Green Pepper, Pimento, Oak, Cedar and Musk. ROSE IKEBANA: A crisp, tart nectar composed of: Grapefruit, Rhubarb, Black Tea with Rose, Steeped Rose Petals, Peony, Magnolia, Pink Pepper and Vanilla Honey. VETIVER TONKA: A velvety sensation with notes of: Bergamot, Neroli, Green Hazelnut, Vetiver, Grains, Dried Fruit, Grilled Hazelnut and Nigerian Tonka Bean. The following pyramid is for the sumptuous AMBRE NARGUILE:
At a glance
A voyage to the heart of the matter. A unique collection. Exclusive and singular.
History
With Hermessence, Hermès propose a collection of four rare and sumptuous fragrances. Designed as 'a new language for the initiated in search of unique emotions, for connoisseurs who want to be blown away,' they are the brainchild of the brand's new in-house fragrance designer: Jean Claude Ellena. His work blends poetry, audacity, creativity and the use of the finest essences. Thus were born: Ambre Narguilé, Poivre Samarcande, Rose Ikebana and Vetiver Tonka. Four little gems for men and women, found exclusively in Hermès boutiques Hermès.
Range
For each of the 4 lines: Spray bottle: 3.4 fl. oz.; Spray bottle 3.4 fl. oz in leather sheath; Box of 4 travel spray bottles: ½ fl. oz. There is also a boxed set with one spray bottle of each of the four essences.
Bottle
Four stunning bottles. Heavy, massive glass with softened angles. Four colors that change according to the essence selected. Green, orange, pink or brown juice. Each bottle is topped with a sumptuous stitched-leather cap in four hues: natural, pumpkin, brick or chocolate.
Be the first to comment this fragrance! Register or login to comment.