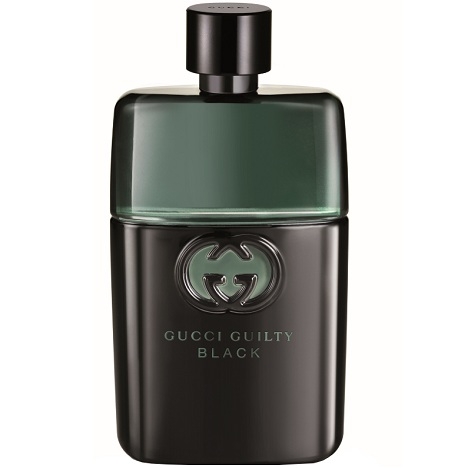 Gucci Guilty Black pour Homme
Description
Gucci Guity Black pour Homme opens with fresh and aromatic accents of lavender and coriander. The orange-blossom and neroli heart has been enlivened with green and aromatic accents. The sweeter drydown pairs patchouli and cedar.
At a glance
When boldness is wrapped in mystery…
History
Dark and carnal, along with its feminine alter-ego, Gucci Guilty Black pour Homme forms an even bolder and more passionate duo, ready to step over the line of provocation. The bottles are garbed in an incandescent black pierced with red or green… colors that stand for "Made in Italy" and for the luxurious heritage that implies, the Italian house points out. The intense green of the bottle also evokes the Gucci Guilty Black man's immoderate temperament.
Range
Eau de Toilette 1.7 and 3 oz.; After-Shave Lotion 3 oz.; Shower Gel 5.1 oz.
Bottle
The Gucci Guilty pour Homme bottle has been revisited in green glass sheathed in black metal. The interlocking G's on the front create a window affording a glimpse of the juice.
18 june 2013

Le patchouli, c'est une plante dont les feuilles sont séchées. Avant d'être séchées, ces feuilles sont attaquées par l'humidité (la plante pousse dans les pays chauds). Ces feuilles se retrouvent au contact de la terre, de l'humus. Le patchouli a d'ailleurs une odeur très terreuse, très humus. Il a aussi des facettes boisées, qui proviennent notamment d'un de ses constituants, le patchoulol. Depuis un certain nombre d'années, on arrive à raffiner les essences de patchouli et à isoler les facettes boisées, en se débarrassant du côté davantage terreux, humide. Ici justement, on a un patchouli qui est plutôt boisé, donc une essence assez raffinée. Les notes vertes aromatiques apportent de la fraîcheur. Et en fond on a un effet cèdre légèrement ambré. C'est un parfum relativement intense, puissant, avec de la tenue.

Report abuse

http://www.rochas.com/fr/parfums

Parfumeur créateur de la maison Rochas, Jean-Michel Duriez est amoureux des parfums et des belles matières premières. Formé à l'Isipca, puis...