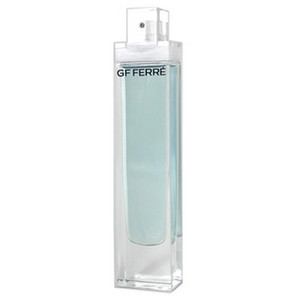 Description
A woodsy essence (cedar, patchouli, acajou) in which spices (cardamom, caraway and more) bring rhythm, energy and freshness.
At a glance
Young, urban, spontaneous. GF Ferré, the new fragrance for men, to conquer the future.
History
GF FERRE HIM se présente dans un nouveau duo de parfums, pour lequel le couturier italien GianFranco Ferré s'est inspiré des jeunes et de leur vision du futur. Avec la nouvelle ligne de vêtements GF Ferré, il offre une façon inédite de vivre la mode, une mode mobile, interchangeable et citadine. La naissance de ce nouveau parfum masculin s'inscrit dans cette continuité. Jeu de couleurs ultra moderne, flacon épuré, le parfum dévoile un jus tendance où les bois sensuels et les épices rafraîchissantes se rencontrent… GF FERRE HIM is part of a new duo of scents for which the Italian designer GianFranco Ferré was inspired by young people and their vision of the future. With his new GF Ferré clothing line, he offers a unique way of living fashion: mobile, interchangeable and urban. The birth of a new men's scent continues along those lines. Eye-catching packaging, ultra-modern bottle, the scent unveils a trendy juice in which sensual woods meet a refreshing spices…
Range
Eau de Toilette 60 ml et 30 ml ; Gel Douche, 200 ml ; Lotion Corporelle, 200 ml ; Déodorant Vaporisateur, 100 ml ; Déodorant Stick Sans Alcool, 75 g.
Bottle
Sobre et élégant, le flacon est un parallélépipède élancé en verre massif transparent. Couleur rose pour elle, bleu ciel pour lui.
09 january 2015

I love the transparent juice. I want to paint a room this color. I like the tall bottle.

Report abuse

13 november 2014

I do hope youthful men try this as it sounds like the clear notes and caraway will be upbeat and unique.

Report abuse

15 july 2013

On sent ce parfum, et on se dit que finalement, le paradis est aussi bien sur la terre. Le parfait ajustement entre toutes les matières est là, et la digression sur chaque note ne se fait absolument pas brusquement...un régale !

Report abuse
Be the first to comment this fragrance! Register or login to comment.