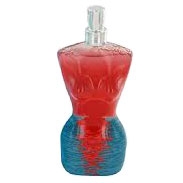 JEAN PAUL GAULTIER CLASSIQUE Eau d'Eté Sans Alcool
Description
This seasonal scent conjugates the paradoxes of light freshness and torrid voluptuousness. A sweetly-scented rose with "thorns" of citrus zest makes an appearance. The fragrance is sunnier and more luminous, thanks particularly to the Arabian jasmine essence.
At a glance
A torrid, sub-tropical display for delightfully fresh and sensual new sensations.
History
For the summer of 2004, the most international of French designers will be dressing his famous duo 'Jean Paul Gaultier Classique' and 'Le Mâle' in shades of seduction and freshness. This year's inspiration is a tropical sunset that drapes this gorgeous seasonal fragrance in coral and turquoise tones. With the Oriental notes toned down, the essence is gentler and more floral. This limited edition is alcohol-free – ideal for refreshing sun-tanned skin.
Range
Eau d'Eté sans Alcool, 4.3 fl. oz. Limited edition.
Bottle
A summer version of the famous haute-couture bust. The 2004 collection's look is inspired by a deep-red sun setting over a turquoise-blue sea. A real collectors item.
Be the first to comment this fragrance! Register or login to comment.