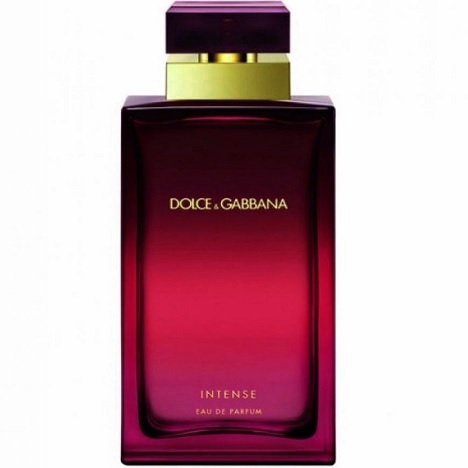 Dolce & Gabbana pour Femme Intense
Description
Dolce & Gabbana pour Femme Intense reveals a floral and slightly fruity opening, with neroli and unripe mandarin orange. The heart is a bouquet of orange blossom and tuberose. The lusher trail is composed of sandalwood, marshmallow and white musk.
History
In 2013, the fashion-design duo Dolce & Gabbana unveils Dolce & Gabbana pour Femme Intense. This version of Dolce & Gabbana pour Femme aims to be lusher, thanks to the presence of tuberose in the heart. According to the house, this Intense edition is, 'a bewitching celebration of perfume's powers of suggestion, invitation and magnetism.' The rectangular bottle has a maroon/pomegranate hue.
Range
Eau de Parfum 0.85, 1.7 and 3.4 oz., Body Lotion 8.5 oz., Shower Gel 8.5 oz., Body Cream 6 oz.
11 march 2014

Le bordeaux, le grenat, le rouge foncé, ce ne sont pas des couleurs faciles. Ce sont des teintes qui sont changeantes, pas très stables sur écran, difficiles à photographier. Souvent les couleurs les plus subtiles sont les plus difficiles à gérer, à restituer, à appliquer aux différentes matières / supports du flacon. Le bordeaux est souvent une couleur masculine. Il est possible qu'en le choisissant pour des parfums féminins, les marques essaient de communiquer sur une sortie du registre typiquement féminin (comme le rose avec les fleuris-fruités). Au-delà de la mode actuelle du rouge, il y a sans doute un souhait d'affirmer une touche de différence, ou un côté plus intimiste. Plus mystérieux également, c'est certain.

Report abuse

http://www.agenceaio.com/

Marc Touati est créateur de flacons de parfums. Issu d'une famille d'ébéniste et de tapissier-décorateur, il a dès sa jeunesse une...