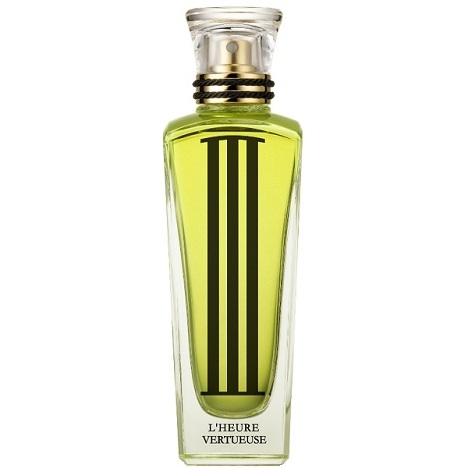 Description
L'Heure Vertueuse exhales lavender's intensely green side, and has an herbal-aromatic effect thanks to notes of rosemary, thyme and lemon verbena. Lentisk and absinthe give the green sensation staying power. Perfumer: Mathilde Laurent.
At a glance
A mischievously green hour
History
Cartier completes their luxurious Les Heures de Parfums collection with Number III: L'Heure Vertueuse, a fragrance that brings happiness to both body and soul. According to the house perfumer, Mathilde Laurent, the scent is redolent of, 'all kinds of herbs – aromatic, wild, medicinal… even lavender, and even absinthe, too,' smelling as fresh as if they had just been gathered.
Range
Eau de Toilette 2.5 oz.
Bottle
A sleek, spare bottle adorned with a Roman numeral III, like on a clock face.
29 january 2013

L'Heure Vertueuse de Cartier aurait pu tout simplement s'appeler L'Heure… Verte. Sa senteur végétale qui mêle les aromates à une tonalité d'herbe coupée devrait séduire les amoureux des fragrances atypiques… et vertes bien entendu. Si vous êtes séduit(e), je vous conseille de tester également 'Pentachord Verdant' de Tauer Perfumes, une senteur très verte, mais plus boisée.

Report abuse