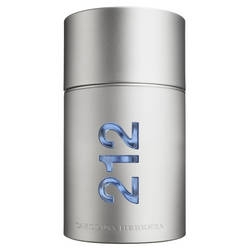 Description
212 Men reveals a masculine essence, original, surprising and attractive. The structure of its fragrance complements that of the women's version and is innovative, elegant and subtle. Its notes create an intense blend of contrasts between the aquatic and energetic freshness of green accents and citrus tones and the sensuous warmth of spices and woods, the whole wrapped in a crystal-clear lightness that starts from the top to the base. The unique character of fresh gardenia highlights the ethereality of incense, and the originality of ginger and pepper. The personality of sandalwood and the sensuousness of gaïac bring out the virile character of the fragrance.
History
The man who wears 212 enjoys life to the fullest; he is virile and tender, young but endowed with a classic spirit. He wouldn't trade his values for anything and knows that some traditions deserve to live on. For the 212 man, the charms of life lie in a stroll with a beautiful woman on a sunny day, a glass of wine, a funny remark, and a very personal eau de toilette.
Range
After-Shave 3.4 Fl. Oz After-Shave Gel 3.4 Fl. Oz Shower Gel 8.5 Fl. Oz Deodorant spray 5.1 Fl. Oz Deodorant stick 2.5 Fl. Oz
Bottle
The 212 Men flacon is a very original object, attractive, subtle and masculine with a simple and classic design, pleasant to the touch and surprisingly sturdy.
21 november 2012

Muito versátil, urbano. Pimenta proeminente.

Report abuse

http://perfumenapele.com

Quando criança, brincava com frascos vazios de Phebo imaginando ser perfumista. Apaixonou-se de verdade por perfumes quando ganhou de uma vizinha...