Description
The sparkling head notes carry a citrus-and-black currant scent all the way to the base. In the middle, we discover a fruity, sensual freshness born of a blend of jasmine and apricot. The seductive, mouthwatering finish unites powerful notes of vanilla, musk and sandalwood.
At a glance
Amor Amor sounds like a declaration of love with an Iberian accent. Symbolized by a deep, passion-red rose, it can tell the story of a lifetime… or of an evening.
History
A fragrance for lovers, Amor Amor reminds us that the sense of smellis the most essential sense in terms of sensuality. Like a love potion, the compositionis tinted a vibrant red, and gathers together the magical notesflowers and fruit.
Range
Eau de toilette 1, 1.7 and 3.4 fl. oz.
Bottle
As red and round as the apple of temptation, the bottle is as the gleam in lovers' eyes.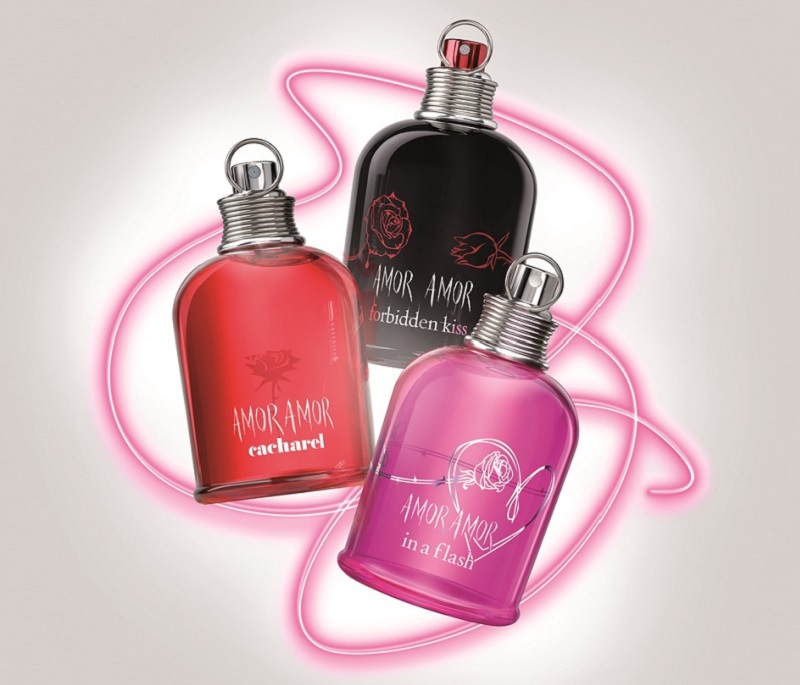 Les publicités et images présentées appartiennent exclusivement à leurs auteurs. Toute utilisation commerciale est strictement interdite sans accord préalable de l'auteur.Toute image présente sur le site peut être enlevée sur simple demande de la part de l'auteur, en écrivant à contact@osmoz.com
Avec l'aimable autorisation de la marque
With the kind permission of the brand
25 february 2013

Le flacon rouge d'Amor Amor est assez simple, très posé. Il possède une espèce de col ; c'est assez statutaire finalement. On est ici dans un flacon qui est très statique, à l'opposé de Catch me par exemple. Cet autre parfum de Cacharel a un flacon beaucoup plus libre : il s'adresse sans doute à une femme plus libre, plus pétillante. Avec Amor Amor, on est dans une ambiance moins festive et nocturne. Quant à la rose sur le flacon d'Amor Amor, elle est assez proche en termes graphiques de celle qu'on retrouve sur le packaging noir de Black XS de Paco Rabanne, qui est plutôt rock.

Report abuse

http://www.agenceaio.com/

Marc Touati est créateur de flacons de parfums. Issu d'une famille d'ébéniste et de tapissier-décorateur, il a dès sa jeunesse une...

08 november 2012

Amor Amor é bastante popular por suprir suas necessidades calóricas de uma semana em forma de perfume.

Report abuse

http://perfumenapele.com

Quando criança, brincava com frascos vazios de Phebo imaginando ser perfumista. Apaixonou-se de verdade por perfumes quando ganhou de uma vizinha...