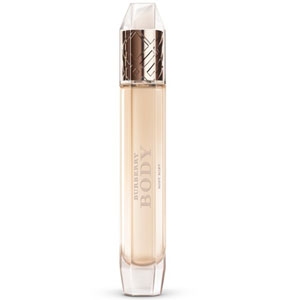 Description
Burberry Body opens with airy notes of freesia, peach and green absinthe. The heart pairs rose and iris with waves of sandalwood. Lightly ambry and musky, the chypre trails reveals notes of cashmere wood and vanilla. In 2012, Burberry expanded the Burberry Body line by releasing an eau de toilette which highlights the floral notes of the original, while playing down its chypre side to create a much lighter scent.
At a glance
Burberry spirit… bottled
History
A modern chypre, Burberry Body is being presented as the incarnation of the British brand's values: 'sexy, sensual, elegant, timeless, iconic and unforgettable.' According to the company, it is the most massive launch they've ever done. Inspired by Burberry's emblematic trench coat, Burberry Body is a 'naturally sensual and feminine scent, the fruit of an eclectic combination of refined ingredients.'
Range
Eau de Toilette 1.2, 2 et 2.8 oz ; Eau de Parfum 1.2, 2 and 2.9 oz.; Eau de Parfum Intense 2 and 2.9 oz.; Body Oil 2.9 oz.; Body Lotion 2.9 oz. Body Mist 2 et 2.8 oz.
Bottle
The Burberry Body bottle is a long, multi-facetted cylinder revealing a nude-toned juice.
Advertising of the fragrance Burberry Body
With the kind permission of the brand
14 september 2012

Je décrirais Burberry Body comme un parfum rond, présentant une odeur homogène, sans surdosage de matières premières. Le parfum est léger mais persistant, avec comme une odeur de propre. Je l'imagine porté par une jeune femme discrète mais espiègle, à même la peau, comme on porterait un sous-vêtement.

Report abuse