Description
DECIBEL's aldehyde-y opening is lively, with an almost metallic effect. The heart combines licorice, violet and frankincense. The drydown has woody tonalities of vetiver, and other, more oriental ones, like vanilla and tonka bean.
At a glance
The essence of rock
History
Azzaro presents DECIBEL, an explosive overdose of warm and metallic notes for an electric, rock n' roll scent. It's a fragrance that 'awakens every man's inner rock star,' the house explains. The bottle turns into a microphone for those who are musicians at heart... and other men, too.
Range
Eau de Toilette 0.85, 1.7 and 3.4 oz.; Deodorant Stick 2.5 oz.; Deodorant Spray 5 oz.; Hair & Body Shampoo 5 oz.
Bottle
The bottle is shaped like a microphone. The black-glass base is capped with a metallic mike cover that functions as a spray button. Engraved on the bottle are the letters dB – the symbol for the word decibel.
Advertising of the fragrance Decibel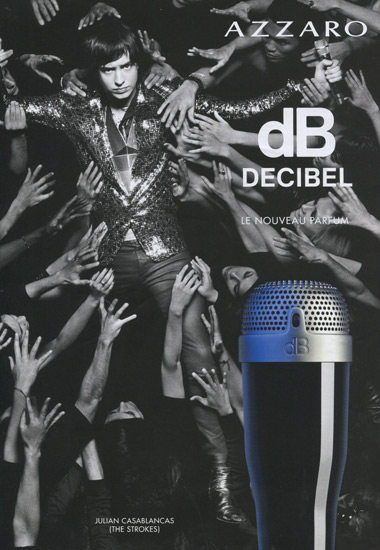 With the kind permission of the brand
07 march 2013

Julian Casablancas, leader du groupe The Strokes, est l'égérie de cette fragrance dans laquelle tout semble lié à l'univers du rock. Cela commence avec le nom du parfum Décibel qui évoque la musique. Ensuite, l'égérie qui est un chanteur… Et enfin le flacon en forme de micro. En un mot, Azzaro invite à être rock ! Quand vous avez fini votre flacon, vous pouvez même l'utiliser pour faire un karaoké avec vos amis ! Enfin, à vous de voir…

Report abuse