Questions & selections
Getting to Know the Oldest Fragrances on the Market
25 september 2014
Since the birth of the very first perfume, the Eau of the Queen of Hungary, in 1370, many are the fragrances that have come and gone, but only a few rare juices have weathered the decades or even the centuries without losing their aura, or their popularity. Let's take a new look at the oldest fragrances on the market, the ones whose scents have marked our skin and our minds, and are still available to this day…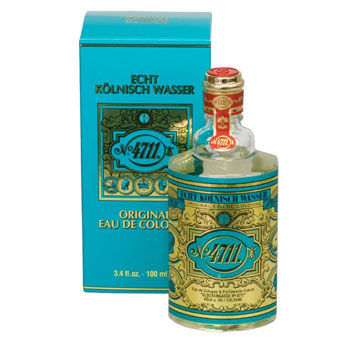 One scent that, like Proust's madeleine, brings bring back sweet childhood memories for many of us, is Eau de Cologne. The fragrance itself is fresh and light, but its history is long and dense. More than bridging just a generation gap, this scent has been popular for centuries.
In 1693, an Italian merchant named Gian Paolo Feminis met a nun from Santa Maria Novella Convent in Florence. She shared the formula for a marvelous eau with curative qualities, which was known as Aqua di Regina, or The Queen's Eau.
A blend of citrus peels macerated with rosemary, it had bracing and invigorating effects.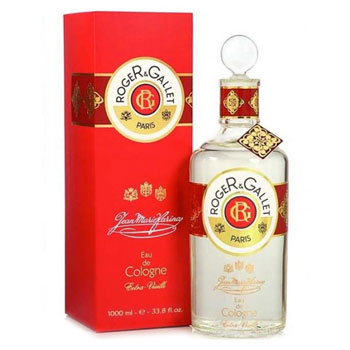 Upon his death, the merchant bequeathed the recipe to his nephew, Gian Maria Farina, who lived in Cologne. Farina began marketing it throughout Europe, under the name "Eau de Cologne." He sold his business to Roger & Galler in 1862, and they began selling it under the name "Extra vieille, Jean-Marie Farina."
The first shipment of Eau de Cologne to Paris took place in 1727, but it didn't really catch on until Louis XV's soldiers brought it back from the Seven Years' War, in 1763.
Eau de Cologne became the fragrance of French kings and emperors, from Louis XV and XVI to Napoleon, who would slip a bottle into his boots before riding off on a military campaign; he used over 4 gallons a month!
Back then, Eau de Cologne was sold in apothecary shops, and used as a body rub or for washing… people poured it into their soup, too!
But what is Eau de Cologne exactly? Nowadays, the term is used to describe a citrusy scent with 90% alcohol content and only a 4% concentration of fragrance.
Although it used to be a common bathing and cleansing product, nowadays, Eau de Cologne is usually sold in perfume shops, and is used as a refreshing pick-me-up.
Ageless and unisex, it can be used in a multitude of ways, from dabbing it onto children's skin, or wiping your brow with it, to shaking a few drops onto a handkerchief to slip into your handbag or baggage or splashing it on in the morning to help you wake up. No matter how they use it, everybody loves Eau de Cologne for the sensation of well-being and vitality it provides.
As old as it is, eau de cologne has never gone out of style, and has been revisited by the greatest names in perfume.
As far back as 1853, Guerlain extended the Eau de Cologne tradition with Eau Impériale. And in 2001, Thierry Mugler launched his Cologne, which included all the citrusy ingredients in the original recipe. Bulgari followed suit with his now-classic green-tea-inflected Eau de Cologne. As did Hedi Slimane, with his 3 eaux de Cologne christened Eau Noire, Cologne Blanche and Bois d'Argent.
When you think of legendary perfumes, Chanel N° 5 almost always comes to mind. But who would think that it is also one of the oldest ones? N° 5's success is surely due in part to the fact that its scent is unstable. It is different on every woman, lending it an aura of mystery. According to Chanel's famous nose, Jacques Polge, N° 5"strikes a balance between presence and mystery."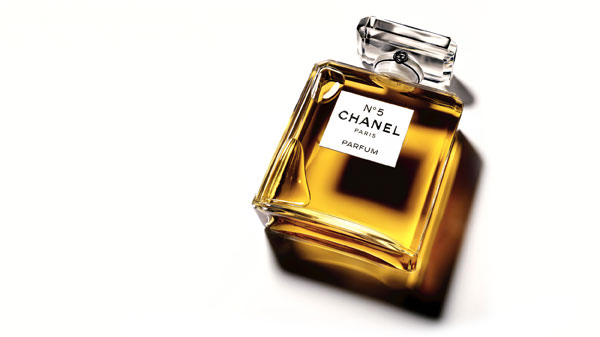 The challenging task of designing the first Chanel fragrance fell to Ernest Beaux, the perfumer to the tsars of Russia. One fateful day, Mr. Beaux presented 24 perfume samples to Chanel, who chose sample N° 5. The name stuck, because she presented her collection on May 5th (5/5) that year. The number 5 clearly seemed to be her lucky number.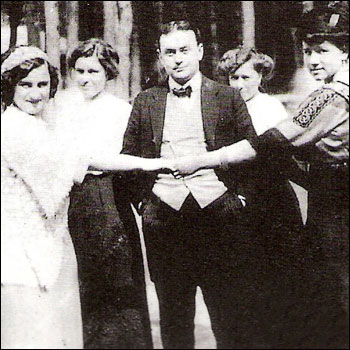 What made Chanel stand out from other houses was in the way her perfume had been composed. Before N° 5 was released in 1921, perfumers stuck to a single flower in their fragrances. Chanel's groundbreaking new scent was composed of 80 different ingredients, including May rose, ylang-ylang blossom and both synthetic and animal odors. Coco Chanel wanted it to be "made to measure, the way we make dresses."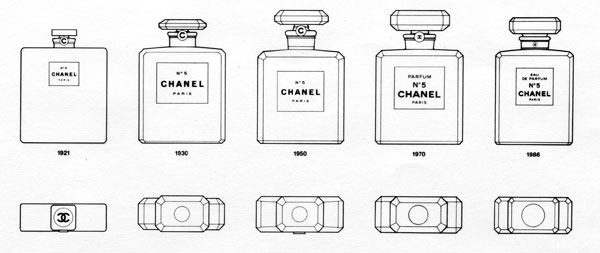 In order to focus attention on the contents, she designed a very spare, uncluttered glass bottle, and graced it with a black-and-white label that echoed her fashion house's style. Even today, the bottle is still handmade and wax-sealed.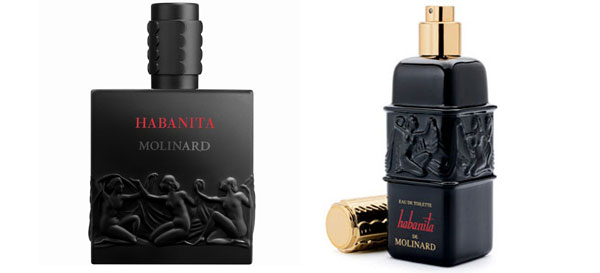 Like Chanel N° 5, Habanita was also created in 1921, by Molinard, a famous perfumer from Grasse, in the south of France. The legend says that he composed it as a scent for cigars and cigarettes, not women, back in the 20s.
It wasn't until 1924 that the fragrance was launched as an eau de toilette, and the bottle was designed by the famous master glassmaker and jewelry designer René Lalique. A slender black bottle embellished with a Greco-Roman frieze would be the setting for this perfume, intended for women of character as well as for men.
The bottle's design was recently revisited in a more modern, square, matte-black version – but it still includes Lalique's legendary frieze. A symbol of eroticism, the trail is oriental, powdery, ambry and woody. Vetiver is paired with vanilla and patchouli to create a fragrance that has been described as, "The longest-lasting perfume in the world."
Conceived shortly after Chanel N° 5 and Habanita, Shalimar can also boast that it is one of the oldest perfumes on the market.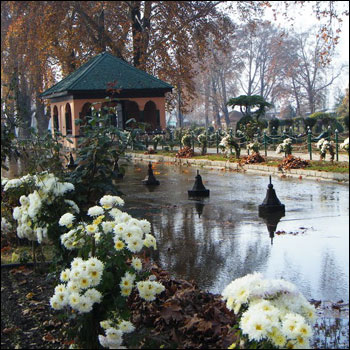 Introduced to the world at Paris's International Art Deco Show, in 1925, it is the incarnation of one of the most prestigious perfume houses in the world, and one that is nearly two-centuries-old: Guerlain. Shalimar means, "Abode of Love" in Sanskrit, and its eight letters are an ode to immortal love.
In 1921, at the time of Shalimar's genesis,Paris was dancing to the rhythm of the Charleston, and Parisian's elitist and cosmopolitan population was fascinated by all things Asian and Oriental. Jacques Guerlain (the son of Pierre-François Pascal) came up with the idea of a perfume that would reflect the Roaring 20s' wild and free-spirited atmosphere. Meeting a maharajah would change all that.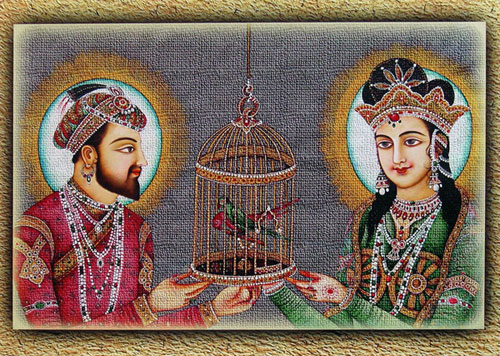 The maharajah told Jacques the legendary love story between Emperor Shah Jahan and his wife Muntaz Mahal that was immortalized by the Taj Mahal and the gardens of Shalimar. The legend says that the emperor designed a perfume to present to his beloved in the midst of the heady scents of the Shalimar Gardens.
This story was the key that unlocked Jacques Guerlain's imagination and led to the birth of one of the world's most legendary perfumes. As soon as he heard it, everything went very quickly. Jacques tossed a good dose of a new synthetic product called ethyl-vanillin, which reproduces the scent of vanilla in a soft, creamy way, into a bottle. Since the perfume was meant to represent the Orient, he added in fresh notes of citrus, including bergamot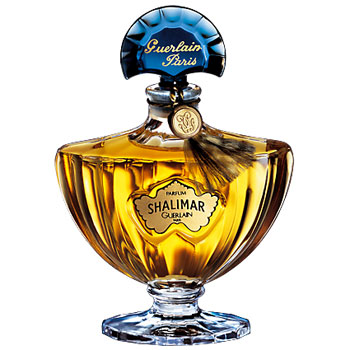 For the bottle, inspiration came from Mongolian stupa art, and the sapphire-blue fan-shaped cap was inspired by a piece of silverware that belonged to the Guerlain family. To this day, Shalimar is still the legendary perfume that symbolizes both love and the Orient.