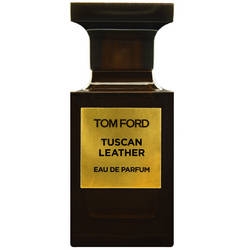 Description
An opening of thyme and saffron enlivened with raspberry introduces a frankincense-jasmine heart. The 'Cuir de Toscane' ("Tuscan Leather") dry-down is garbed in an ambry-wood accord and a 'black suede' note.
At a glance
A sophisticated chypre leather… part of Tom Ford's Private Blend collection
History
Tuscan Leather is one of Tom Ford's luxurious Private Blend collection. 'Private Blend is my perfume lab; it's a place where I can create unusual, unique fragrances, freed from the usual conventions of perfumery.' For both men and women, Tuscan Leather eau de parfum comes in a 1.7-fl.-oz., streamlined spray bottle, as well as in a large, 8-fl.oz. decanter. In selected department stores.
Range
Eau de Parfum 1.7 and 8 fl. oz.
Bottle
A dark, streamlined bottle adorned with a golden label; the set evokes pieces on a chessboard.
27 march 2013

Personnellement, Tuscan Leather est un des parfums de ces dernières années qui m'a le plus plu. Je l'ai porté, parce que je pense qu'il faut essayer les parfums sur la peau pour les découvrir. Et porté, c'est incroyable : c'est une fragrance avec une diffusion, une signature… C'est un parfum cuiré, donc a priori un type de parfums plutôt segmentants. Pourtant quand on le fait découvrir, il a beaucoup de succès.

Report abuse