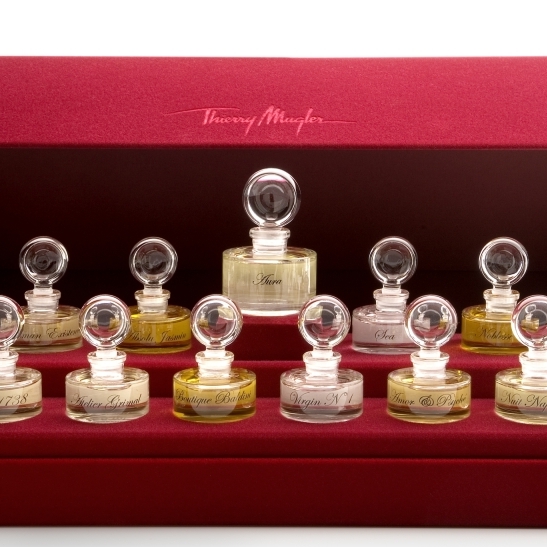 Description
The boxed set contains fourteen olfactory compositions bearing the names Baby, Paris 1738, Atelier Grimal, Virgin Number One, Boutique Baldini, Amor & Psyche, Nuit Napolitaine, Ermite, Salon Rouge, Human Existence, Absolu Jasmin, Sea, Noblesse, Orgie. Uncompromising fragrances evoking human warmth, love, sexuality, wealth, virginity and more… The fifteenth fragrance, 'Aura' is a creative interpretation of the bewitching magic spell cast by the 'virtuoso, terrifying scent of Grenouille', the murderous hero of Perfume. 84 ingredients compose its top-secret formula, by fragrance designers Christophe Laudamiel and Christophe Hornetz.
At a glance
Thierry Mugler brings Patrick Süskind's best-seller, Perfume, to life
History
Perfume, the novel by Patrick Süskind, was a huge international success, with over 15 million copies printed worldwide. Rarely has perfume had such a leading role. In 2006, this fabulous and fascinating story is coming to the cinema. No one had dared to attempt to bring into existence the extraordinary accords the author had described in such detail. Until now. In this boxed set of 15 fragrances, Thierry Mugler dares to present the novel's 15 olfactory themes. 'Disturbing, arousing, divine, sensual, icy… none of the fifteen compositions will leave you indifferent'. To find out more about this ultra-limited edition: www.leparfum.thierrymugler.com or call (33 0)1 46 43 31 80.
Range
The boxed set contains fourteen ¼-oz. bottles and one ½-oz. bottle (Aura).
Bottle
A luxurious red-velvet box contains 15 vials with a spare, retro design.
Be the first to comment this fragrance! Register or login to comment.