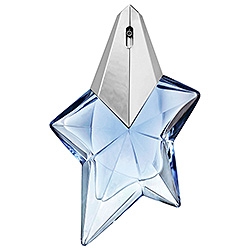 Description
Le projet démarra avec l'idée d'un flacon en forme d'étoile et d'un parfum coloré en bleu. Angel est un univers d'émotions et son flacon a été fabriqué par des maîtres verriers selon un procédé semi-artisanal, chaque flacon est une pièce unique, jamais tout à fait semblable aux autres ! L'étoile, symbole de lumière et de bonheur, éclaire la nuit. "L'ange est le messager qui met en relation le ciel et la terre!" Thierry Mugler. L'étoile est rechargeable chez le distributeur.
History
A bold and creative fragrance, Angel revolutionized perfumery by exploring new olfactive plains. Evoking childhood memories and joyful laughter, Angel is a gourmand oriental, evoking the scent of candy floss, chocolate and praline… Launched in 1992, this iconic fragrance from Thierry Mugler is now an international best-seller.
Range
Eau de Parfum, Etoiles ressourçables : 25, 50, 75 et 100 ml (formes variant selon la taille) ; Eau de Parfum, Etoiles non ressourçables : 25 et 50 ml ; Flacon Source, 50 et 100 ml ; Piedestal. Produit Corps : Voile Céleste, Crème Céleste, Frisson Céleste, Brume Complice, Huile Universelle, Douche Céleste, Bains Magiques, Gommage Grains Célestes, Déodorant Céleste, Brume Céleste pour les Cheveux, Caresse d'Ange, Crème Gourmande pour les Mains, Shampooing Céleste.
Bottle
Parfum d'audace, parfum de créateur, Angel a révolutionné la parfumerie en explorant de nouveaux territoires olfactifs. Souvenirs d'enfance, rires joyeux, la fragrance d'Angel se fait orientale gourmande (odeurs de barbe à papa, chocolat, pralines...). Lancée en 1992, la fragrance fétiche de Thierry Mugler est aujourd'hui un best seller international.
Advertising of the Angel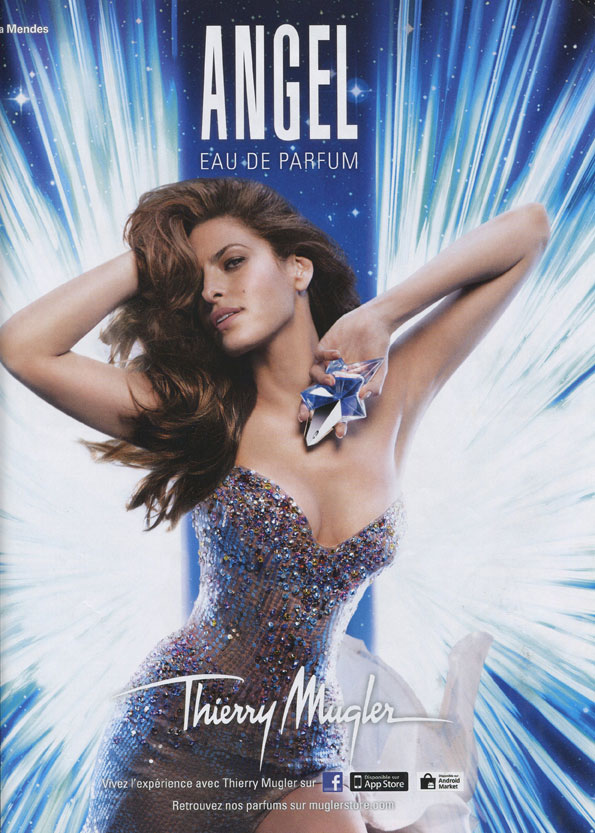 Making of Angel
With the kind permission of the brand
26 october 2012

Muitas pessoas culpam o patchouli de Angel, mas eu acho que especificamente este elemento o torna interessante, andrógino e sexy. Um ícone da perfumaria, inventou um gênero!

Report abuse

http://perfumenapele.com

Quando criança, brincava com frascos vazios de Phebo imaginando ser perfumista. Apaixonou-se de verdade por perfumes quando ganhou de uma vizinha...

14 september 2012

Si on m'avait demandé 'en blind' la couleur du parfum Angel, j'aurais imaginé une succession de couleurs vives comme celles qui vous bombardent à la fête foraine : rouge laqué des pommes d'amour, métal flambant des manèges, rouge framboise, brun profond du patchouli, rose vif des barbes à papa et cette touche vert gazon, contraste irrésistible dans la tête du parfum... Le tout dans un vacarme joyeux, débridé. Bref, tout sauf ce bleu céleste. Un contraste de plus qui contribue à la magie de cette incroyable création.

Report abuse