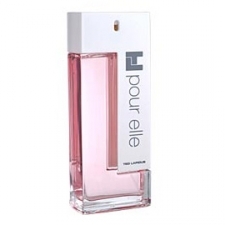 Description
The perfumers were aiming for a carnal, enveloping fragrance, seen as a bouquet of white blossoms. The tiaré (Tahitian vahiné blossom) note bestows that flower's tropical, intoxicating presence. The overall impression is one of a warm, voluptuous caress of a scent.
At a glance
A rich and sensual perfume, with strong visuals: the woman is a modern mermaid, casting her net to catch the object of her desire.
History
A woman gets carried away by her dreams. The fragrance becomes the mirror of her thoughts, plunging her into a world of sensual desire, at the borderline between the conscious and the unconscious. An unabashedly seductive scent, inspired by the idea of a love potion.
Range
Eau de Parfum: 1, 1.7 and 3.4 fl. oz.; Velvety body lotion, 3.4 fl. oz.; Deodorant Spray, 4.2 fl. oz.; Shower and Bath Beauty Gel, 6.8 fl. oz.
Bottle
The slender TL pour elle bottle is modern and functional, with a spray cap. The letter L harmonizes artfully with the pure, refined color scheme.
Be the first to comment this fragrance! Register or login to comment.