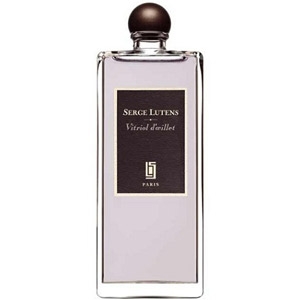 Description
This carnation soliflore signed Lutens is more spicy than floral. The spicy character is worked with Cayenne pepper, clove and gillyflower, another flower with a spicy scent. The trail is warmed up with sweet and woody notes. This is a carnation ("œillet" en French) that can be worn by men or women.
At a glance
A spicy, angry and elegant scent
History
Vitriol d'œillet (Carnation Vitriol) is an angry scent, Serge Lutens explains. Visually, the flower is very crinkly, and the edges of the petals are saw-toothed: so we're not in a soft and gentle register. And not in olfactory terms either: carnation isn't really a flowery flower, it's actually an explosion of spicy notes. To recreate the smell of this angry flower, Lutens used cloves, hot pepper and gillyflower. At the same time, he goes on, Vitriol d'œillet is a very elegant scent. After all, don't dandies wear carnations on their lapels?
Range
Eau de Parfum 1.7 oz.
Bottle
You'll recognize the house's signature bottle: rectangular, sleek and elegant.
Be the first to comment this fragrance! Register or login to comment.