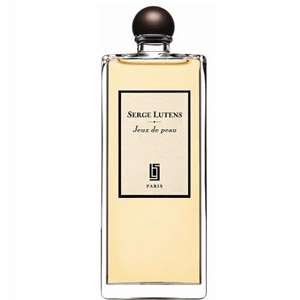 Description
Inspired by the odor of baking bread, Jeux de peau ("Skin Games") is more redolent of buttered toast or brioche buns than of a plain baguette. This spicy-oriental-woody scent contains a number of facets. You'll encounter a noticeable sandalwood note as well as a fruity-apricot accord, which, in entwined with sandalwood creates an almost coconut-like facet. You might also find a licorice effect or get a more floral impression. On the subject of ingredients, Serge Lutens isn't revealing anything… or hardly. Rumor has it that the fragrance has wheat and rye extracts as well as other components like iris, frankincense and rockrose (cistus labdanum).
At a glance
Eau de bakery
History
Despite its fairly classic, if somewhat enigmatic name, Jeux de peau is no ordinary fragrance. Inspired by Serge Lutens' childhood memories, the fragrance calls to mind toast dripping with butter. The realm of bread baking is very present: toasted notes, grainy smells, sweet brioche notes and more. True to his avant-garde spirit, and never short on humor, the creator is proposing a totally new kind of gourmand scent. For him or her.
Range
Eau de Parfum 1.7 oz.
Bottle
You'll recognize the house's sleekly refined signature rectangular bottle.
02 october 2012

Serge Lutens Jeux de peau is a very unique gourmand fragrance. Notes of hazelnut, warm milk, caramel, and wheat dry down to warm woody spices. Created to elicit childhood memories of baking bread, Jeux de peau (translated to Play on skin) is the perfect scent to accompany a crisp autumn walk, leaves crunching underfoot.

Report abuse

http://www.sniffapalooza.com

Karen Adams is the executive operations manager of Sniffapalooza. This international, event-based organization for fragrance enthusiasts was created...