Description
Floral, fruity and green, Dot perfume opens with notes of berries, dragon fruit and honeysuckle. The heart reveals flowers – jasmine and orange blossom – combined with coconut water. The trail exhales a blend of vanilla, driftwood and musks. Perfumer: Annie Buzantian, Firmenich.
At a glance
Pretty ladybug
History
Marc Jacobs presents Dot, a creation with an unusual, colorful ladybug bottle. Inspired by the theme of polka dots, one of the designer's favorite patterns, the fragrance symbolizes charm and elegance, energy and vitality. It's a light, upbeat perfume with a touch of the unexpected, Marc Jacobs explains.
Range
Eau de Parfum 1, 1.7 and 3.4 oz.
Bottle
The round red bottle is decorated with black dots and topped with a winged cap. The whole will make you think of a ladybug. Designer: Sayuri Shoji in collaboration with Marc Jacobs.
Dot - Case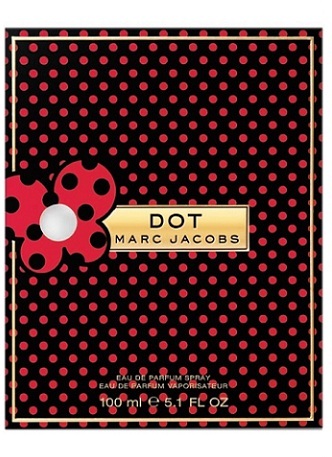 With the kind permission of the brand
26 december 2012

Plus que la coccinelle ou les œuvres de l'artiste Yayoi Kusama avec qui Marc Jacobs a travaillé pour Vuitton : les pois du packaging de Dot me font penser à l'Andalousie. Olfactivement, c'est frais et fruité, j'ai un effet fruit d'eau : j'ai presque l'impression de pastèque. Du coup, je suis vraiment dans une autre histoire que celle qui a été conçue. C'est un parfum que je vois plutôt destiné à l'été, au matin. On a en effet une idée d'insouciance, de légèreté. Avec le temps, l'odeur évolue vers quelque chose de moins fruitée, plus classique. Finalement on a un flacon qui est plutôt innovant en termes de conception, d'esthétique et un jus qui est assez classique. On pourrait penser que Dot s'adresse à une clientèle excentrique, de par son flacon. Mais la fragrance est beaucoup moins excentrique. En fait, c'est un jus classique, facile à porter.

Report abuse

http://www.agenceaio.com/

Marc Touati est créateur de flacons de parfums. Issu d'une famille d'ébéniste et de tapissier-décorateur, il a dès sa jeunesse une...