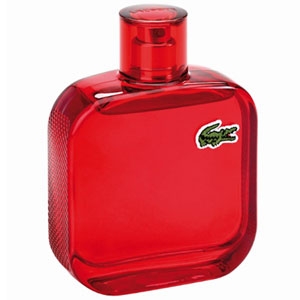 Description
L.12.12 ROUGE ("Red" in French) opens with notes of mandarin-orange liqueur and mango, plus a 'red Rooibos tea' accord. The heart reveals spicy waves of pepper, cardamom and ginger. In the drydown, acacia, benzoin and rockrose grant the fragrance a sweet and woody dimension.
At a glance
A breath of red-hot energy!
History
After blue, green and white, Lacoste is launching L.12.12 ROUGE, the fourth fragrance in their L.12.12 collection. This line of men's scents was inspired by the brand's polo shirts of the same name. As a tribute to the founder, René Lacoste, who was the first designer to put his logo on the outside of an item of clothing, the bottle flaunts a fabric crocodile. The bottle's stunning red hue symbolizes this fresh, spicy and woody composition's lively, energetic feel.
Range
Eau de Toilette 1 et 3.4 oz.
Bottle
Sleek and square, the red bottle echoes the polo shirt's straightforward simplicity. The (large-size) bottle is adorned with the house's logo, the famous embroidered green crocodile.
Advertising of the fragrance L.12.12 ROUGE
With the kind permission of the brand
30 january 2013

Le rooïbos, qui est rouge, se boit comme le thé, même si ce n'est pas tout à fait une variété de thé. La plante a une odeur plutôt masculine. Il y a une facette épicée. Mais aussi un côté herbe séchée, qui rappelle le maté, une plante que l'on boit aussi en infusion. Les notes de thé, et plus particulièrement de thé vert, sont apparues en parfumerie dans les années 90. Pour créer une note de thé, le parfumeur mélange différents ingrédients comme la bergamote et l'hédione, en rajoutant une légère touche fleurie. Le résultat est une note de thé qui est fraîche. Le rooïbos apporte, lui, une note thé qui est davantage sèche et épicée.

Report abuse

http://www.rochas.com/fr/parfums

Parfumeur créateur de la maison Rochas, Jean-Michel Duriez est amoureux des parfums et des belles matières premières. Formé à l'Isipca, puis...