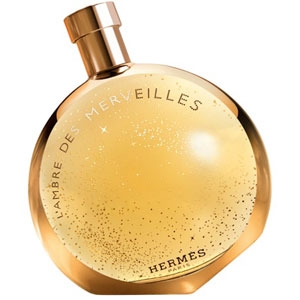 Description
L'Ambre des Merveilles is composed around an amber accord, underscored with patchouli, vanilla and labdanum (rockrose). You'll also find spicier and more-citrusy top notes. Perfumer: Jean-Claude Ellena.
At a glance
All the mystery of amber… by Hermès
History
With L'Ambre des Merveilles, Hermès reinterprets Eau des Merveilles, which was created in 2004 by Nathalie Feisthauer and Ralf Schwieger. 'For this chapter, I wanted to tell the tale of one of amber's mysteries, a tale of delight and sensuality, when vanilla meets the warmth of labdanum, and the moistness of patchouli,' house perfumer Jean-Claude Ellena explains. The fragrance expresses a willful, sensual and mysterious femininity.
Range
Eau de Parfum 1.7 and 3.4 oz.
Bottle
L'Eau des Merveilles's 'tipsy' bottle has been adorned with a band of gold and a shower of glittering gold. The juice is golden, too.
02 october 2012

Ce qui a attiré mon attention sur ce parfum, c'est tout d'abord son très beau flacon. Cette boule de verre ornée d'une pluie d'étoiles dégage une dimension enchanteresse qui donne envie de découvrir la fragrance. Et là aussi c'est un sans-faute pour Hermès, du moins à mon avis. Derrière les facettes chaudes, vanillées et patchouli de L'Ambre des Merveilles, on retrouve la trame très reconnaissable, ambrée et épicée de l'Eau des Merveilles. Selon moi, il ne faut pas choisir entre les deux parfums car ils restent tout de même très différents. Je conseillerais plutôt de se parfumer avec L'Eau des Merveilles en journée et pourquoi pas de conserver la version Ambre pour la soirée. Un joli compromis, non ?

Report abuse