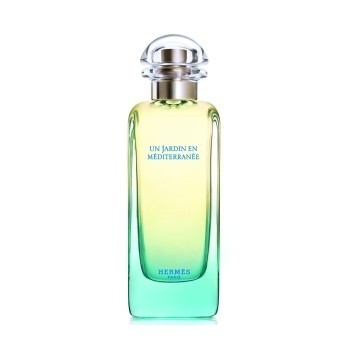 UN JARDIN EN MEDITERRANÉE
Description
Built around fig leaf, this concentrated garden exhales the milky scent of fig trees, the sweet warmth of orange trees and the crispness of sea lilies. In this mosaic of olfactory and visual sensations, one can easily call up fig trees, mastic trees and red cedar. Then one divines the bergamot, orange blossom and oleander.
At a glance
Inspired by the Mediterranean Sea, the domain of the Greek god Hermes, the brand of the same name has called upon perfumer Jean-Claude Ellena and Leïla Menchari, Hermès's VP in charge of decoration. Between them, they managed to recreate the scents of Leï
History
To express the essence of this garden, Jean-Claude Ellena strolled its scented pathways, crushing leaves between his fingers, inhaling the bitter odor of the shrubs, the intoxicatingly sweet scent of the orange blossom, the mellow greenness of the fig trees... Then the novelist Michel Tournier wrote a symbolic tale in which a child becomes a woman, and the garden is a place of initiation. Water-painter Aurore de la Morinerie captured the garden on paper with brushstrokes so delicate as to be almost transparent. Both the tale and the painting accompany the eau de toilette in this limited edition boxed set, the first volume in a new collection.
Range
Eau de Toilette 3.4 fl. oz.
Bottle
The translucent, sea-green bottle conjures up the ever-changing reflections of the sea, the sun and the Mediterranean landscape.
Be the first to comment this fragrance! Register or login to comment.