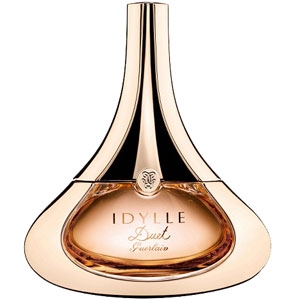 Description
At the top, the perfume reveals white lilac, as well as green and floral notes. The composition's central flower, jasmine, wafts from the heart. You'll also find rose and a sweet, honeyed effect. The trail features a woody-musky accord. Perfumer: Thierry Wasser.
At a glance
A spring idyll
History
After a first duet of rose and patchouli, in 2012, Guerlain unveils the second chapter in their Idylle Duet collection. House perfumer Thierry Wasser has chosen 'the subtle alchemy of two white flowers from the same bouquet: jasmine and white lilac.' Sweetness and light meet up here, like the harbingers of a spring romance that you hope will never end…
Range
Eau de Parfum 1.15 and 1.7 oz. Limited edition.
Bottle
Idylle's teardrop-shaped bottle takes on a slightly rosier hue.
04 january 2015

J'aime bien Idylle en edp, j'en ai même porté un flacon. Toutefois, cette version florale jasmin est trop capiteuse. Le jasmin est trop présent, écrasant les autres notes.

Report abuse

19 march 2013

Le parfum Idylle est sublime, mais selon moi, quelque peu commercial. J'irai à contre-courant de mon collègue, mais on le sait aussi, dans le parfum il y a bien quelque chose de subjectif. Je crois avoir déjà parlé d'Idylle; c'est un beau parfum; mais il me laisse sur ma faim. Si Diorissimo est pour moi le modèle en matière de Muguet, sensualisé par un fond puissant et charismatique, chez Idylle il manque cela. Joli, sympa, subtil car quand même, Guerlain nous déçoit rarement, mais peu de caractère s'y dégage. Pour une femme chic et romantique, il sera parfait. MAIS, MAIS MAIS MAIS! De tous les fleuris, que je recherchais, que j'ai sentis par curiosité, Idylle Duet m'a littéralement choquée. Il reste tout le côté magnifique, délicat, floral chic et intemporel, mais les accords Jasmin et Lilas, lui donnent la verdeur, le Jasmin l'effervescence et l'ensemble, totalement ce qui manque au 1er: l'exaltation de fleurs sensuelles et puissantes que donne Duet. Il est un baume au coeur, une sensualité à fleur de peau, une coquinerie chic et charme, et je le trouve très particulier. Je n'en ai pas connu un seul qui soit aussi chaut et vibrant. Le fond est sublime, laissant une chaleur musquée légèrement sucrée et surtout... surtout... le bois réchauffé dans une prairie. Mon parfum?

Report abuse

25 february 2012

Encore une énième déclinaison d ' un parfum a succès . Entre les ( eaux de toilette , les extraits , les eaux de parfums , les eaux fraiches , les extraits , les eaux de toilette intense ) je trouve que l ' on fini par s' y perdre . Sans compter les autre déclinaison avec le meme nom , mais avec des ingrédients différents cela abouti a une surproduction de parfums dont certains n ' auront jamais la chance de trouver leurs public , et d ' autres très bon parfums finiront par disparaitre des parfumeries par manque de place dans les boutiques . je regrette beaucoup la disparition des beaucoup de parfums que j 'avais acheté dans les années 90 aux profits de nouveautés incessantes ou de reformulations qui au final n ' apportent rien de nouveau . Stop a la surenhère svp !!

Report abuse
Be the first to comment this fragrance! Register or login to comment.