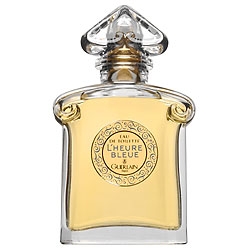 Description
Top note: Bergamot, anise. Middle note: Carnation, orange blossoms, rose and tuberose. End note: Heliotrope, iris, vanilla, musk.
History
L'Heure Bleue is a bouquet of delicate and powdery flowers, a fragrance that evokes serenity and tranquility. The representation of a landscape on a summer night, when the sky has lost its sun but hasn't found its stars yet, a romantic atmosphere hanging on a dream.
Bottle
Designed by Raymond Guerlain, l'Heure Bleue has the same bottle as Mitsouko (1919). The two bottles are often said to mark both the beginning and the end of the First World War. The curved shoulders on the bottle reflect the influence of Art Nouveau. The hollow heart-shaped cap translates the pre-war romantic era.
11 october 2012

Mon parfum préféré entre tous! Elegant, poétique, mélancolique, doux, réconfortant, sensuel, mystérieux, autant de mots pour décrire ce chef d'oeuvre. A essayer pour les amatrices de parfums poudrés, floraux orientaux, et de guerliande!

Report abuse

http://mybluehour.blogspot.com/

Passionnée de parfum depuis l'adolescence, j'ai pourtant entrepris des études de droit puis de journalisme. C'est lorsque j'étais...