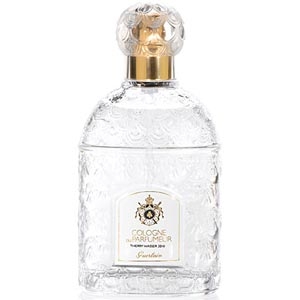 Description
A modern improvisation on the theme of Cologne, this fresh eau signed Thierry Wasser doesn't get its freshness from a long citric flight of fancy: the citrus is there, but right from the start, the musky, slightly matte and soapy trail is already present. Orange blossom grants the heart a soft sweetness that counter-balances the fairly marked green and aromatic effect. 'Green is my reflex,' Thierry Wasser admits, 'I use it all over the place.' You can also pick up a slightly balsamy facet, which, paired with the 'crisp, green feel,' may call to mind a hazelnut or green-almond tonality. A few woody accents can also be perceived in this Cologne for men and women to share. As for the trail, it is both fluffy and clean, like a fresh, clean bathrobe you wrap up after stepping out of the shower.
At a glance
Cologne: by tradition, every in-house Guerlain perfumer has one of their own…
History
While Guerlain is often associated with notes like vanilla, amber and tonka bean, Colognes have also always been present at the celebrated Parisian haute-perfume house. In 1853, Pierre-François-Pascal Guerlain created Eau de Cologne Impériale: Empress Eugénie and "le tout-Paris" (Parisian celebrities of the time) enthusiastically adopted it. In 1894, Aimé Guerlain came up with Eau de Cologne du Coq, a sparkling white eau of citrus notes enhanced with rosemary and lavender. 1920: Jacques Guerlain came home from a Mediterranean voyage during which he encountered citron: his dazzling Eau de Fleurs de Cédrat was born. Fifty-four years later, in 1974, Jean-Paul Guerlain came up with a fresh eau with accents of hay and mint: it was Eau de Guerlain's turn to shine. And now in 2010, shortly after arriving at the House of Guerlain, perfumer Thierry Wasser has renewed the exercise. His Cologne is modern, with green and musky, and sweet and crisp facets. Like the other Guerlain Colognes, this one is unisex, and, according to its creator, it can be worn alone or layered with another fragrance. At Guerlain points of sale.
Range
Eau de Cologne 3.4-oz. spray, Eau de Cologne 8.5, 17 and 34 oz.
Bottle
You'll recognize the signature bottle, dotted with bees. Presented as a spray in the 3.4-oz. size, it becomes a splash in the larger sizes.
09 january 2015

I adore the bottle and though I rarely use colognes (I do prefer parfum to eau de toilettes)., I could not pass this by without trying it.

Report abuse

06 june 2010

une eau de cologne trés agreable á porter, avec une note de fleur d'oranger qui rapele les pays du sud comme le portugal. J'aime beaucoup les parfums Guerlain. Bravo

Report abuse
Be the first to comment this fragrance! Register or login to comment.