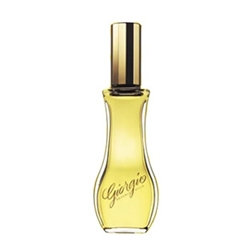 Description
The composition revolves around orange blossom, which the fruity peach-and-apricot notes make particularly persistent.This is followed by a heady bouquet of exuberant flowers: ylang ylang, tuberose, gardenia, jasmine.The end note is a warm amber-orange, rendered all the more intoxicating by a mixture of sandalwood, patchouli and vanilla.
History
Beverly Hills is the home of stars, a place with splendid villas, swimming pools, and ideal weather. A Mecca of money and success that everyone dreams of.Giorgo is enjoyed a huge success, particularly in the U.S., because when it was launched, it was sold exclusively by mail. A perfume for an elite world everyone wants to belong to.It is the first perfume that was known for its "scent strip", namely in the world famous Vogue U.S.A. magazine, whose pages were heavily impregnated with the pervasive fragrance.Giorgio, an emblematic product of the 80's a time of easy money as a symbol of success, represents the spirit of the decade through its full, powerful, extremely identifiable notes.It is a recognizable, long-lasting perfume, so much so, that some restaurants forbid entry to customers wearing this excessively potent fragrance.
Bottle
The yellow-and-white striped packaging conveys perfectly the sunny, bright feeling of the fragrance itself.
Advertising of the fragrance Giorgio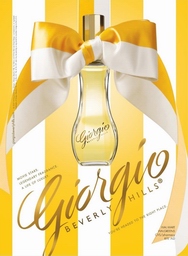 With the kind permission of www.imagesdeparfums.fr
With the kind permission of the brand
Be the first to comment this fragrance! Register or login to comment.