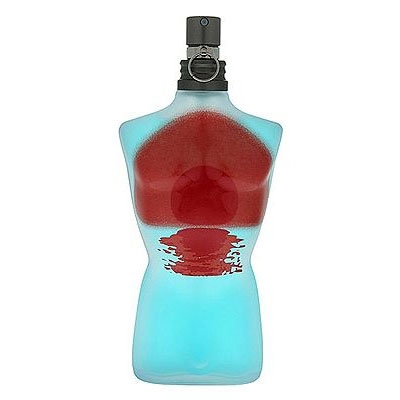 Cologne Tonique LE MALE edition 2004
Description
The scent of Gaultier's classic men's fragrance has been entirely revamped in favor of cool freshness. The concentration of essences is much lighter, and this dynamic summer version has been enriched with eau de gingembre (ginger), eau de ginseng, cooling agents and an energetic eau de menthe.
At a glance
Torrid tropical freshness for this energetic summer fragrance.
History
Every summer, Jean Paul Gaultier offers his fans a limited edition duo of his 'Le Mâle' and 'Jean Paul Gaultier Classique'. For 2004, Le Mâle invites men to discover the colors of a torrid seduction with a fresh, energizing rhythm. A livelier scent, that goes easy on the Oriental notes and flaunts a cooling, soothing effect on summer skin thanks to the presence of ginseng, ginger and the special "ice-cube effect" ingredients. Try it as soon as the summer sun shines.
Range
Cologne 4.2 fl. oz. Limited edition.
Bottle
This limited edition offers a summer version of Mâle's torso bottle. Its translucent, blue-lagoon hue immediately suggests a refreshing breeze. The mischievous seductiveness can be seen in the 'Gaultier' name tattooed onto the shoulder. A seasonal bottle that collectors won't want to miss.
Be the first to comment this fragrance! Register or login to comment.