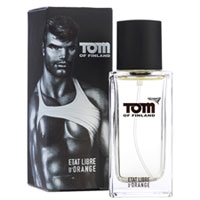 Description
A sensual blend evoking leather (pyrogenated styrax oil, suede note), the metal of belt buckles and the woody notes of outdoor 'festivities'. Vibrant aldehyde notes evoke the freshness of a long, hot shower after a night of excess. The voluptuously sexual base blends amber, tonka bean, musk and vanilla. Designed by: Antoine Lie.
At a glance
A fragrant foray into the pictorial, sexual fantasy world of Tom of Finland
History
After fragrances with names like Sécrétions Magnifiques, Putain des Palaces ("High-Class Whore") and Je Suis un Homme, Etat Libre d'Orange, the fragrance brand that likes to leave the beaten path, continues to explore the concept of olfactory libertinage with their new fragrance, Tom of Finland. A fragrance that translates into scent the homo-erotic imagination of Finnish graphic designer Touko Laaksonen (1920-1991), better known as Tom of Finland. 'Straight or gay, (…) the Tom of Finland man doesn't have a sexuality, he IS sex. (…) Fantasy fits him like the black leather of his Perfecto motorcycle jacket'. For more info: etatlibredorange.com
Range
Eau de Parfum 1.7 oz.
Bottle
A streamlined rectangle of glass, in a package flaunting Tom of Finland illustrations.
09 january 2015

Tom of Finland on the bottle - looks like a creepy mannequin. I don't mind straight or gay, but Tom looks unreal. That aside, I love the imagination put into this brand's perfume names. I would try and if I like it, I can always put a sticker over Tom's face.

Report abuse

10 april 2014

Quite ORiental>>>> and long lasting

Report abuse

08 february 2010

J'ai vraiment été surprise par ce parfum. Je m'attendais à une odeur puissante très agressive. En fait, ce parfum se déploie autour de l'iris. Il est très doux, un peu poudré, un peu ambré. Je le considère plus comme un parfum mixte que comme un parfum "couillu" pour bikers gays.

Report abuse
Be the first to comment this fragrance! Register or login to comment.