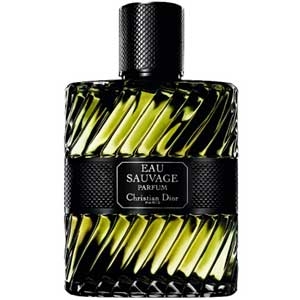 Description
Very different from the original Eau Sauvage, this Parfum version opens with a few gently aromatic notes. The heart is composed of myrrh and vetiver. As for the dry-down, it goes more woody and ambry. Perfumer: François Demachy.
At a glance
A more mysterious and nocturnal Eau Sauvage
History
In 2012, Dior presents a new Parfum version of one of their classic men's scents, Eau Sauvage. The bottle has kept its sleek lines from 1966, but the fragrance itself has gone deeper and more oriental. Eau Sauvage Parfum 'symbolizes youth, par excellence' and is intended for elegant men. This composition represents 'the timeless sophistication of the Dior Man,' the house explains.
Range
Parfum 1.7 and 3.4 oz.
Bottle
Eau Sauvage's signature bottle has been revisited with a magnetic black cap. The juice itself has gotten darker.
02 october 2012

La différence essentielle avec Eau Sauvage est sur la structure du parfum. L'eau de toilette originelle est une cologne chyprée tandis que l'Eau Sauvage Parfum est un parfum oriental boisé. Le premier est très frais, citronné, avec beaucoup d'aromates comme le basilic et le romarin, mais il doit sa tenue à un coeur jasminé et un fond très mousse de chêne. Le second a gardé la trame originale mais a perdu sa fraîcheur au profit d'un fond où domine le vétiver et un accord très ambré boisé un peu façon Habanita, ainsi qu'une facette cuirée.

Report abuse

http://www.cecilezarokian.com

Cécile Zarokian est parfumeur-créateur indépendant. Elle élabore des fragrances dans son laboratoire de création parisien situé près du Canal...