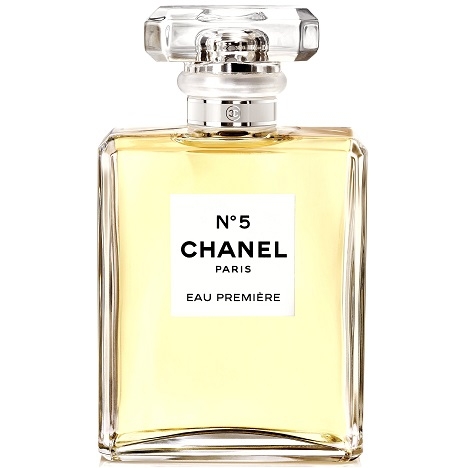 Description
The ingredients of N°5 are still there, but the proportions are different. The ylang-ylang has been softened. The aldehydes and neroli bestow greater freshness. Vanilla and woods have a stronger presence in the trail.
At a glance
What if it were the very first time?
History
With strength and flair the mythic Chanel N°5 has been a best-seller for nearly a century. 'Fashion passes, style remains,' Gabrielle Chanel used to say. Sleekly clarified, N°5 EAU PREMIERE is neither entirely the same nor entirely other. 87 years after the launch of N°5, Jacques Polge lets us see Chanel's mythic perfume in a fresh, new light. If it were a painting, Chanel says, this wouldn't be the sketch, but the watercolor.
Range
Eau de Parfum 2.5 and 5 oz.
02 october 2012

Pourquoi succomber à ce bouquet abstrait nimbé de rosée ? Epuré, clarifié et sensuel, le N°5 se livre ici à nous comme au premier jour. Il conjugue le froid et le chaud, la fraîcheur et la caresse tendre sur la peau, le tonique et le moelleux, en gardant cette légendaire élégance. Une réconciliation des contraires qui peint le N°5 à la manière d'une aquarelle. Les notes métalliques des aldéhydes parfaitement maîtrisées forment la clé de voûte de cette architecture minérale. Une brillance qui vibre en moderato. On respire toujours l'ylang-ylang des Comores, qui nous offre sa douceur et sa fraîcheur. Le jasmin se joue de contrastes entre opulence et transparence et s'offre un pas de deux avec la rose à peine éclose. Ce sillage aérien s'épanouit sur la peau et exalte avec douceur les notes rondes et suaves de la vanille, puissantes et charnelles du vétiver. C'est un parfum pour les femmes et les filles qui souhaitent renouer avec la tradition légendaire du N°5, sans oublier la modernité de l'instant vécu. Pour celles dont les sens conduisent aux souvenirs mais sans la nostalgie du passé. Bref, pour les Marilyn Monroe modernes qui, comme elle, 'privées du N°5 pourraient perdre l'odorat' !

Report abuse

http://www.arty-fragrance.com

Docteur en histoire, experte du parfum, Elisabeth de Feydeau se définit volontiers comme 'chasseuse d'histoires et d'odeurs'. Elle a écrit...