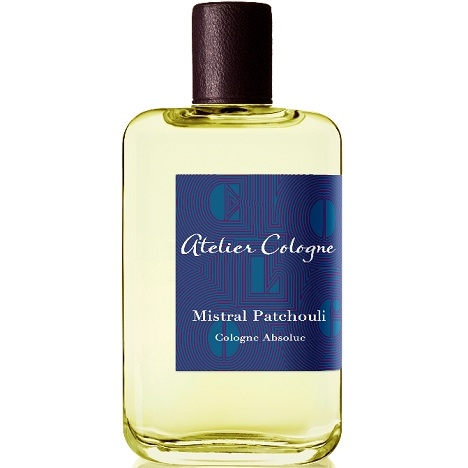 Description
Mistral Patchouli opens with notes of pomelo, black pepper and… star anise, like a wink at pastis, the famous aniseed liqueur from Marseille. The heart goes more floral, with geranium and iris. The woody trail reveals "heart of patchouli" (a redistilled fraction of the essence) paired with benzoin and vetiver. Perfumer: Jerôme Epinette, Robertet.
At a glance
Southern French joie de vivre with Patchouli
History
Atelier Cologne is a fragrance house that's entirely devoted to Cologne, a perfumery classic. With this new scent, the house reinterprets another legendary element in perfumery: patchouli. Their new fragrance, Mistral Patchouli, unveils an unsuspected facet of patchouli that's fresher and more Mediterranean.
Range
Spray bottle 1, 3.4 and 6.8 oz.; Soap 6.8 oz.; Candle 6.7 oz.
Bottle
The rectangular bottle with its rounded edges sports a midnight-blue label.
28 june 2013

Choisir un code coloriel bleu pour du patchouli, c'est plutôt original. Pour du patchouli, j'aurais davantage vu une teinte cognac ou brune. Le bleu c'est le ciel, la mer... En fait, on est davantage ici dans une idée de fraîcheur que de sensualité ou d'opulence. Sinon, j'aime beaucoup le flacon. Certes, le parfum est mixte, mais je dirais que le flacon est doux et masculin à la fois. Le cuir du bouchon apporte quant à lui une signature très luxe.

Report abuse

http://www.agenceaio.com/

Marc Touati est créateur de flacons de parfums. Issu d'une famille d'ébéniste et de tapissier-décorateur, il a dès sa jeunesse une...