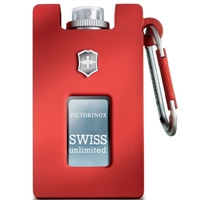 Description
A fragrance with aromatic accents of absinthe and juniper over a gently woody base. Designed by: Christine Nagel and Jean-Christophe Herault, Fragrance Resources.
At a glance
The fragrance with Swiss spirit
History
Famous for their clever pocket-knife, designed in 1891 for the Swiss Army, the Victorinox brand is launching their first fragrance, for men. The gentle, aromatic scent features 3 ingredients found in Switzerland: juniper, absinthe and silver pine/fir. For the adventurous, the brand came up with a refillable red-hued bottle equipped with a karabiner. For more info: www.victorinox-fragrances.com
Range
Eau de Toilette, refillable 2.5-oz. rubber version; Eau de Toilette glass version with 2.5-oz. refill; Eau de toilette, 1-oz. rubber version; Hair & Body Shower Gel 6.8 oz.; Alcohol-free deodorant 2.65 oz.
Bottle
The refillable red rubber bottle is equipped with a karabiner.
Be the first to comment this fragrance! Register or login to comment.