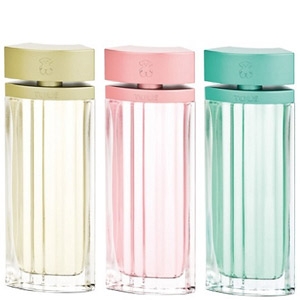 Description
Described as a floral woody musky fragrance, Tous L'Eau de Parfum (pink bottle, linked to the pyramid) begins with citrus and floral elements. The heart of the scent reveals jasmine and peony mixed with a green note of blackcurrant. The background mingles musk, patchouli and amber. Tous L'Eau de Toilette (green bottle) is described as citric, aromatic, floral and woody. Compared to the edp, the edt also contains grapefruit, bergamot, lavender, orange blossom, cedarwood and vetiver. Tous L'Eau pour le Corps (yellow bottle) has the same composition than L'Eau de Parfum, with a lighter concentration and aloe vera. Perfumers: Natalie Lorson (Eau de Parfum and Eau pour le Corps) and Daphne Bugey (Eau de Toilette).
At a glance
Simplicity, purity and clarity
History
Spanish jeweller Tous introduces Tous L'Eau, a collection of scents that is proposed in eau de parfum (pink packaging), eau de toilette (green) and eau pour le corps (body mist, yellow bottle). With Tous L'Eau, Tous proposes 3 ways of perfuming oneself. L'eau de parfum promises 'the serene joy of flowers and musk'. L'eau de toilette conveys 'the optimism and the lightness of citrus and wood'. Half perfume, half skincare, L'eau pour le corps unveils 'the delicacy of citric oils and aloe vera'. Described by the brand as 'natural, spontaneous, innocent, naive, alive and jovial', the collection represents 'the delight of special moments'…
Range
Eau de Toilette and Eau de Parfum 30 ml / 1 oz, 50 ml / 1.7 oz and 100 ml / 3.4 oz ; L'Eau pour le Corps (Body Mist) 50 ml / 1.7 oz and 90 ml / 3 oz.
Bottle
The sleek and transparent bottles reveal pastel juices: pink, yellow and green. The teddy bear logo appears on the metallic cap.
16 january 2015

Je trouve judicieux de proposer une edp, une edt et une eau de soin, de compositions proches, mais différentes. Tentant !

Report abuse
Be the first to comment this fragrance! Register or login to comment.