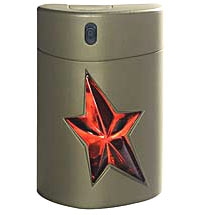 Description
A fragrance co-composed by two nosed: Christine Nagel and Jacques Huclier. They were inspired by A*men's seductively woody heart – so beloved of connoisseurs. With its fruity, spicy notes blended with rhubarb, the scent delivers a stunning new energy. The fragrance's architecture was constructed from sensual, luminous sequoia wood, reinforced with amber and dry wood notes.
At a glance
Look, in the air: new color codes, a fresher, woodier trail, an essence inspired by comic-book superheroes… it's B*Men, the new star fragrance for men from Thierry Mugler.
History
This new essence for men is inspired by Thierry Mugler's childhood passion for comic books and superheroes. And so, a few years after the successful launch of A*Men, comes the amazing B*Men, the second hero of this fantastic saga. A character with incredible powers, whose strength and determination make him the champion of a world in danger. The fragrance aims to be more rhythmic and dynamic than A*Men. While preserving the same geometric shapes, it adopts a new color scheme: red and khaki.
Range
Rechargeable Metal Eau de Toilette Spray, 3.4 fl. oz.; Eau de Toilette Spray Recharge, 3.4 fl. oz.; Eau de Toilette Spray (rubber bottle), 1.7 fl. oz.; Hair and Body Shampoo, 6.8 fl. oz.; Deodorant Stick, 2.6 oz.
Bottle
The shape of the bottles and the other products in the range is directly inspired from the A*Men line. But the colors are completely different: the black (and metallic gray) give way to khaki, and the blue to a luminous red. The case goes black and red. Special mention goes to the rechargeable metal bottle with its sleek metallic feel and opaque color.
Be the first to comment this fragrance! Register or login to comment.