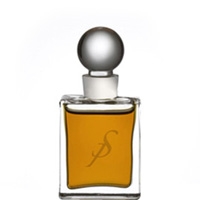 Description
Turbulent, crisp, unapologetic, Black Rosette is a a sensual botanical perfume with roses, black Russian smoked tea and leather… Black tea and Bulgarian roses are fused with the menacing aroma of leather and the crystalline movement of spearmint.
At a glance
A complex rose and leather fragrance infused with black smoked tea...
History
Alexandra Balahoutis, perfumer and founder of Strange Invisible Perfumes, native from Los Angeles, with family ties to Hollywood, created Black Rosette with the hypnotic delicacies of Eastern Europe where she has lived and traveled extensively. Black Rosette is part of the Strange Invisible Perfumes Signature Collection, made of more than 20 ethereal complex perfumes, all crafted from the finest botanical ingredients. Available at select Barneys stores, the Strange Invisible Perfumes boutique and perfumery in Los Angeles, or online at siperfumes.com. For more info: www.siperfumes.com
Range
Perfume 0.25 oz.
Bottle
Refined and handcrafted, the perfume bottle resembles an antique flask with its glass round polished top.
05 october 2013

"Black Rosette" is a easy name to remember. I like it. Bulgarian roses and Russian tea are luxury items, lush ingredients that conjure up fantasies on their own. Just imagine how they can heighten a fragrance.

Report abuse
Be the first to comment this fragrance! Register or login to comment.